Photo: Alamy
The sealed affidavit used in the FBI raid of President Donald Trump's Mar-a-Lago could potentially be made public following today's scheduled hearing, where a federal judge may decide whether the affidavit will be unsealed.
As previously reported by RSBN, Judge Bruce Reinhart will hear arguments from several media outlets, as well as government watchdog group Judicial Watch. Per Fox News, Reinhart was also the same judge who signed off on the original search warrant.
Additionally, Reinhart was identified earlier this month by The National Pulse as having a connection to infamous sex offender Jeffrey Epstein. Per their report, Reinhart was an assistant U.S. attorney involved in Epstein's case, who later moved on to representing Epstein's employees.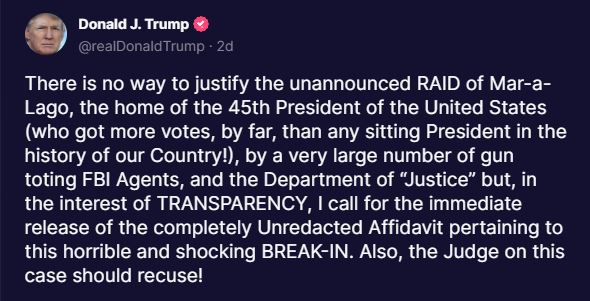 On Tuesday, President Trump slammed the "unannounced RAID" of Mar-a-Lago and demanded the release of the probable cause affidavit that was used to justify the FBI's move:
"There is no way to justify the unannounced RAID of Mar-a-Lago, the home of the 45th President of the United States (who got more votes, by far, than any sitting President in the history of our Country!), by a very large number of gun toting FBI Agents, and the Department of 'Justice' but, in the interest of TRANSPARENCY, I call for the immediate release of the completely Unredacted Affidavit pertaining to this horrible and shocking BREAK-IN. Also, the Judge on this case should recuse!"
Per Fox News, the DOJ is doubling down on its attempt to keep the affidavit sealed, claiming that it would break with legal precedent. However, on Wednesday, Judicial Watch responded to the DOJ's filing to keep the affidavit under wraps:
"The public interest in the contents of the affidavit cannot be understated. The secrecy surrounding the search warrant, and the affidavit that led to its issuance, has caused the nation to convulse with intrigue and harmful speculation that will only increase the longer the truth is kept from the public. The heat must be replaced with light, and soon. Maintaining the seal will only fuel more speculation, uncertainty, leaks, and political intrigue and it will also serve to undermine public confidence in the fair administration of justice and equal protection of the law. "