Photo: Alamy
Senior advisor to President Trump, Jason Miller, issued a fiery statement criticizing the DeSantis presidential campaign, Tuesday.
He wrote, "Some reboots were never going to be successful, like Dynasty, Teenage Mutant Ninja Turtles, or even MacGyver. And now we can add Ron DeSantis' 2024 campaign to the list of failures."
This comes just after Florida Governor Ron DeSantis fired over a dozen campaign staff members amid rumors that the campaign is spending money too quickly, according to NBC News.
In addition, President Trump continues to outperform DeSantis. Real Clear Politics lists Trump ahead of DeSantis in all of the latest July polls.
Miller discussed this on Newsmax and shared a clip of the interview on Truth Social where he said, "Ron Desantis's polling numbers are dropping like a rock."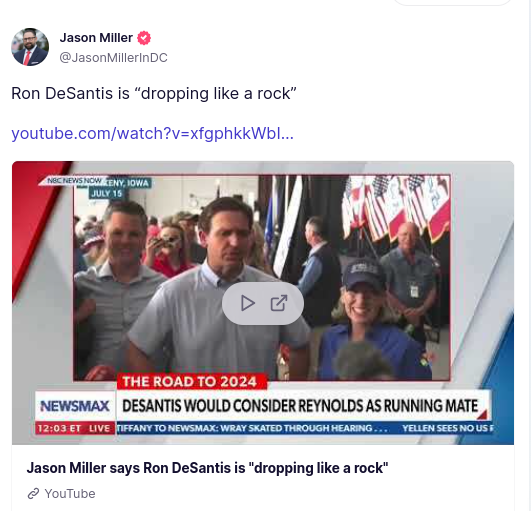 He also mocked DeSantis's recent CNN interview on Twitter, displaying side-by-side pictures of Trump's Town Hall next to the DeSantis interview which shows a massive crow for President Trump but a one-on-one set for DeSantis.
Miller wrote, "Spot the difference!"
He went on to mention the CNN interview in his scorching statement. He noted, "DeSantis could have easily joined one of CNN's high-profile primetime hosts and reached millions of new voters if he had something compelling to say, but with an unlikable candidate, no campaign message, and rapidly sinking poll numbers, the campaign is doing an afternoon hit that nobody will watch."
"That's a tactic, not a new strategy, and it's not going to change DeSantis' campaign nosedive," he added.