U.S. Customs & Border Protection (CBP) on Monday released a report that more than 160,000 migrants attempting to cross the border illegally in the month of October were apprehended. This marks a 128 percent increase compared to October 2020.
Although reports show October constituted a third-consecutive month in decreased migrant encounters compared to July of this year, the numbers recorded are still undoubtedly higher under the Biden administration than data shown for similar months during this same time last year and in 2019.
Family and unaccompanied children apprehensions dropped significantly in the month of October, according to CBP's report, but it still represented the worst October, by far.
For comparison, October 2020 saw only 71,929 encounters, while October 2019 dealt with 45,139 encounters. From 2019 to October 2021, that represents an additional 263 percent increase.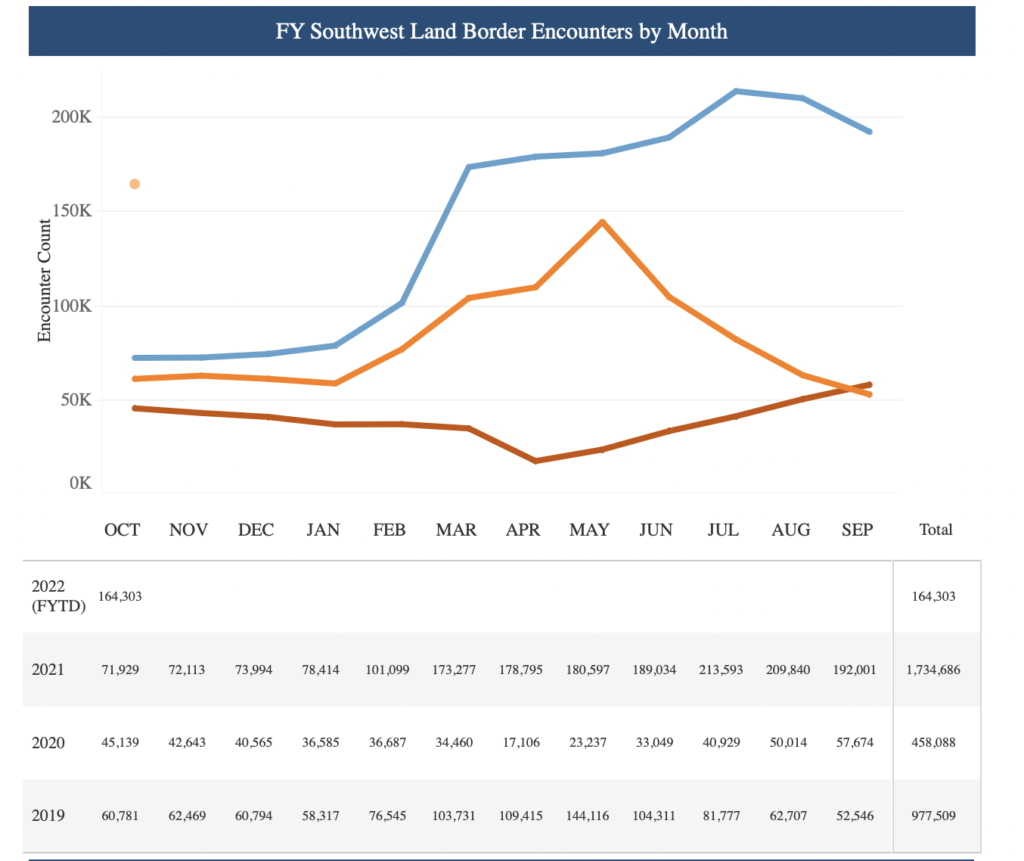 Approximately 93,000 migrants, according to CBP, encountered at the southern border in October were processed for expulsion under Title 42, which is an order that allows automatic expulsion without the need of an immigration judge due to the ongoing Covid-19 pandemic. An additional 70,627 were processed under Title 8, which refers to the temporary detainment of an illegal immigrant that may or may not result in an arrest.
Additionally, Bill Melugin, Fox News reporter, found that almost 2,000 migrants were arrested in the Rio Grande Valley sector by Border Patrol agents on Friday alone, with several hundred managing to escape due to "lack of manpower."
The fact of the matter is that there is no coincidence migrant apprehensions worsened not only as Biden took office, but as he reversed many Trump-era policies that kept illegal immigration under control and at lower rates than what is witnessed now.
Shortly after reversing the Migrant Protection Protocol (MPP), also known as the "Remain in Mexico" policy, for instance, record numbers of apprehensions occurred at the southern border in July 2020; more specifically, 200,000 migrants were caught attempting to cross illegally, which resulted in a number not witnessed in more than 20 years within the U.S.
Over the past year, there were more than 1.7 million illegal migrant apprehensions, compared to a rate of 400,000 in 2020 when Trump was President. The situation has only worsened and gotten out of control under the Biden administration.
However, earlier last month, the Supreme Court of the United States ruled that the Department of Homeland Security must reimplement President Trump's "Remain in Mexico" policy this month, despite the Biden administration's feeble attempts at challenging the legality of the statute. DHS Secretary Alejandro Mayorkas admitted at one point via memo that the MPP program actually helped reduce illegal migration levels.