A draft report by We The People AZ Alliance on Improper Governmental Operations of the Maricopa County Elections Department and Board of Supervisors was presented to the Arizona state Senate on Friday, along with the official Maricopa County 2020 election audit results. This report will be submitted to the Attorney General, Mark Brnovich, for further analysis and consideration.
A copy of this report, obtained by Gateway Pundit, exposes damning statute and law violations that took place before, during, and after the November 2020 elections. The full report can be found here.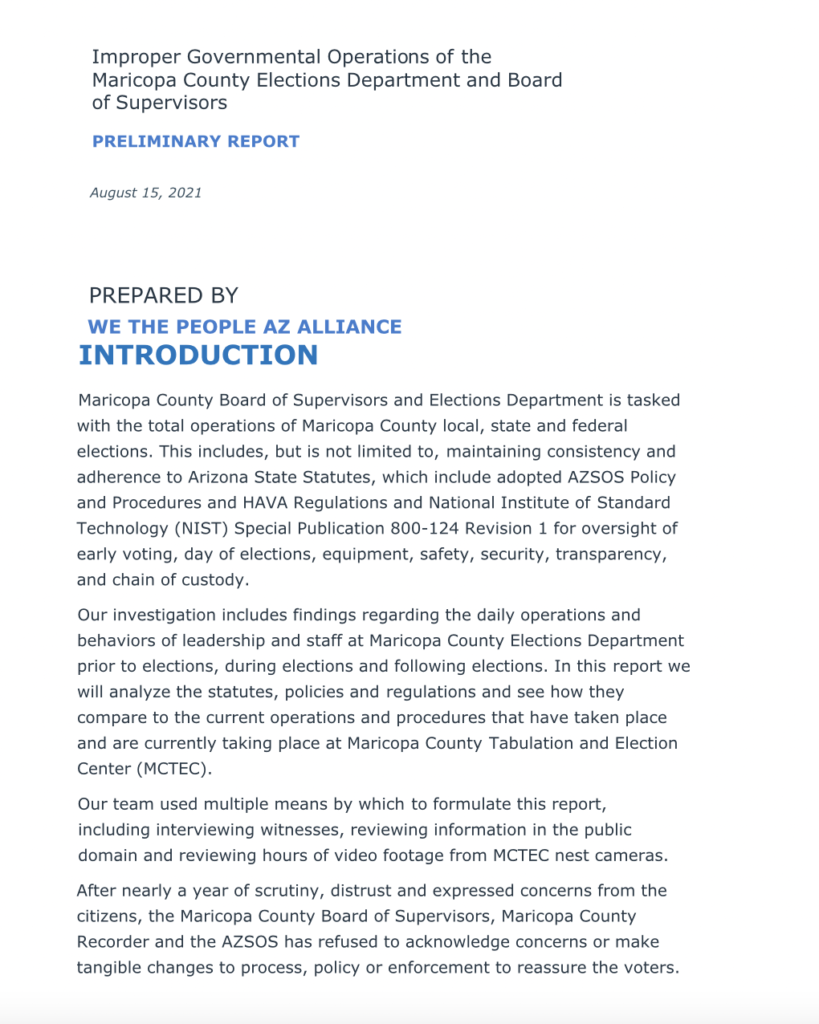 "After nearly a year of scrutiny, distrust and expressed concerns from the citizens, the Maricopa County Board of Supervisors, Maricopa County Recorder and the AZSOS have refused to acknowledge concerns or make tangible changes to process, policy or enforcement to reassure the voters," the report stated.
"Instead, they have chosen to arrogantly take to social media and treat our legislators and citizens with disdain and disrespect. This makes it abundantly clear that the only relief for the people must come from our Attorney General and our Legislators" We The People AZ Alliance said in the report.
The report found issues with mail-in ballots, specifically with ballot harvesting. Ballot harvesting was deemed illegal in Arizona in 2016, yet multiple observers and election workers in Maricopa found the practice still ongoing.
One witness, known in the report as "Witness 1" described seeing how ballots were harvested during the 2020 elections. 
Witness 1 said she was "reassigned to a different location" after reporting opened and unlocked ballot boxes at one location known as "Turf Paradise."
The report also documented multiple people that received ballots for either deceased voters, voters that no longer live at the address that the ballot was sent to, or to voters that never lived at the address the ballot was sent to in the first place.
The authors of the report demanded stricter signature verification processes to prevent ballot fraud from taking place in the near future, although it appears that standards "were lowered" in order to more "quickly" process and verify early and mail-in ballots. Another witness described this process as having "too many rejections of ballots each day," so they were told to "just push them through." 
The report also found that files were logged as altered, with some deleted on April 12 of this year, shortly before the Maricopa County election audit began.
Among other pressing concerns, five areas of "malfeasance" were observed by the team regarding the November 2020 Maricopa County election results. Among these are non-compliance with election security protocols, network insecurity, conflicts of interest, deceptive practices, and Dominion Voting Systems' Company and Machine Issues.
Multiple officials within Arizona have decried for months that the November 2020 elections within the state had been tampered with, including President Trump himself. Many were largely ignored or dismissed by mainstream media outlets.