Photo: Alamy
Trump Media & Technology Group (TMTG) and Digital World Acquisition Corp. (DWAC) are still set to move ahead with their anticipated merger, according to a new press statement released by the companies on Wednesday.
In a joint release, the companies explained that they were "pleased to announce they have agreed on an amendment to their previously announced Agreement and Plan of Merger (the 'Merger Agreement')."
CEO of DWAC, Eric Swider, noted, "We are eager to continue working with TMTG's management to complete mutual due diligence promptly and I want to personally thank TMTG's management for their continued support in our strategic merger. Together with TMTG, we are converging our visions to shape the future of digital media."
TMTG CEO and former California Congressman Devin Nunes additionally stated that TMTG's social media platform, Truth Social, "was created to reopen the Internet and give people their voices back."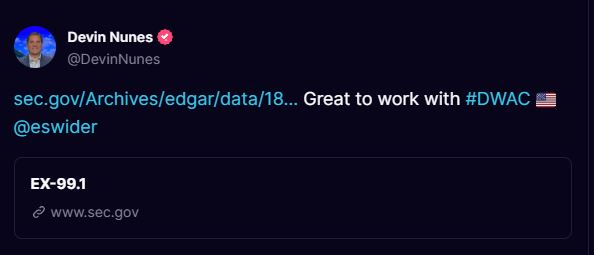 He continued, "As increasingly damning details emerge of the collusion between Big Tech and Big Government to suppress dissenting political views, Truth Social has proven itself to be a premier safe harbor for free expression online. TMTG remains committed to the merger with DWAC, which we believe will help maximize TMTG's potential."
According to a report from Breitbart, the joint announcement from TMTG and DWAC was published on the heels of a long-awaited agreement with the Securities and Exchange Commission (SEC) that will finally allow the merger to take place.
Previously, Devin Nunes told RSBN that it should typically take anywhere from 90-120 days to go through the SEC review process, but TMTG had been waiting for well over one year.
Nunes explained in March, "Our goal is to compete with these Big Tech giants, but in order to do that, you need to be a big public company with access to capital markets."
With the TMTG-DWAC merger on the horizon, it looks like TMTG will finally have the long-awaited "access to capital markets" that Nunes was referring to.