Photo: Alamy
On Tuesday night, President Trump posted on Truth Social about growing tensions between the U.S. and North Korea.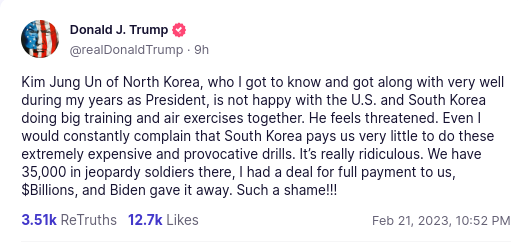 Trump noted how he had worked to maintain peace with the leader of North Korea but that Kim Jong Un now "feels threatened" after the U.S. staged air drills with South Korea on Feb. 3, according to Reuters.
Despite mainstream media reports from NBC and NPR claiming that these drills were carried out in response to North Korean missile launches, North Korea did not test their long-range ballistic missile until two weeks after the U.S. coordinated air drills with South Korea.
Now, President Trump is condemning the situation. He stated, "Even I would constantly complain that South Korea pays us very little to do these extremely expensive and provocative drills. It's really ridiculous. We have 35,000 in jeopardy soldiers there, I had a deal for full payment to us, $Billions, and Biden gave it away. Such a shame!!!"
According to the Brookings Institution, the Biden administration refuses to accept North Korea's nuclear-armed state and has "an ultimate goal of denuclearization." A senior North Korean official described Biden's policies as "hostile," adding that the Foreign Ministry warned that the U.S. drills in early February drew an "extreme red line."
In June 2018, President Trump negotiated an agreement with Kim Jung Un to denuclearize the Korean area through peaceful relations via Time Magazine.
After the Biden administration took over in 2021, relations shifted. Kim Jong Un stated that the "key to establishing new relations between (North Korea) and the United States is whether the United States withdraws its hostile policy," per Newsweek.
The latest air drills conducted by the U.S. and South Korea have increased tensions, leading Kim Jong Un's sister to decry America as "the worst maniacs."