Photo: Alamy
The Trump campaign has issued a scorching memo that recapped the events of its 2024 presidential reelection campaign this summer, directly addressing Republican donors and America First supporters across the nation.
The memo, which was issued by Trump advisors Chris LaCivita and Susie Wiles, highlighted President Trump's dominant position in polling, organization, resources, and political record while contrasting those points against the "terrible" campaign of Florida Gov. Ron DeSantis, R-Fla.
According to the memo, the "Dee-Santis" campaign is a "shell of its once former self" following several reboots that failed to boost the Florida governor upward in GOP primary political polling this year.
DeSantis initially launched his official presidential campaign in late May during a Twitter Spaces. Since then, his support among GOP voters has steadily declined, while President Trump's support has overwhelmingly increased.
For example, President Trump has a massive 45-point lead for the national Republican 2024 presidential primary over DeSantis, based on data from Co/efficient.
The memo noted, "With the SuperPAC in control of everything Ron and Casey Dee-Santis do, say, and think — including their mode of transportation — it's not at all surprising that the 'chiefs' are continuing their all-out spending spree in a desperate attempt to regain 1st place loser status (that's second place for those not following) in the early Caucus and Primary states."

According to a report from NBC News, the memo noted, the DeSantis campaign recently ended its door-knocking efforts in Nevada and in Super Tuesday states. They also drew attention to other mainstream reports from the Washington Post and the New York Times that indicated the alleged dire financial status related to DeSantis's presidential aspirations.
They remarked, "Of course, all of the discussion regarding the plans, charts and darts, and contemplations and timelines of Always Back Down and every other campaign, is debated without any consideration as to what the Donald J. Trump for President Campaign will do — and the assets it brings to the table."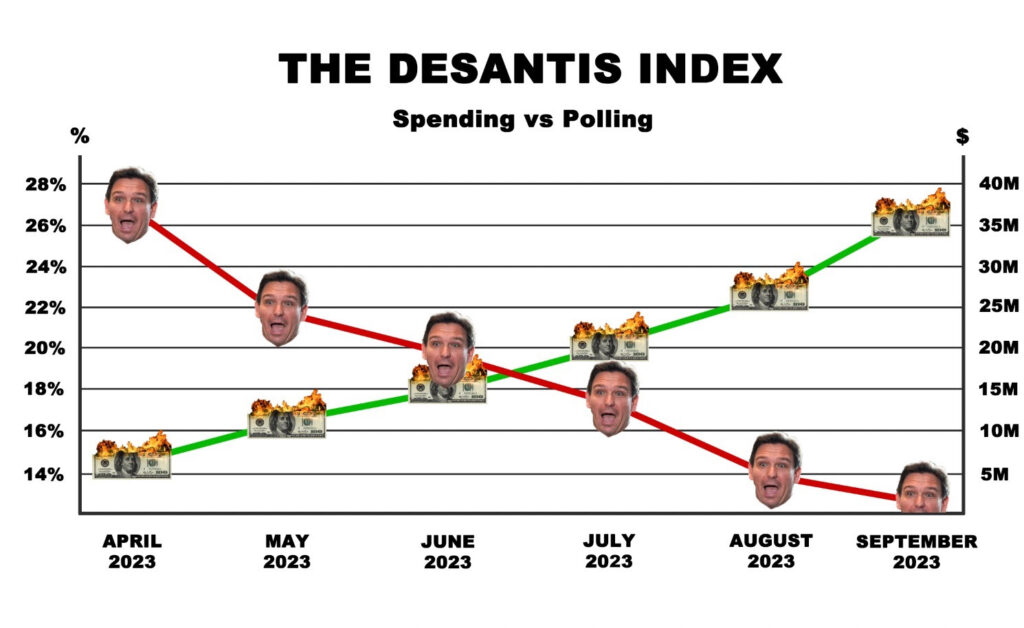 Trump's campaign spotlighted the monstrous fundraising that the president has raked in over the past few months. As reported by RSBN, Trump brought in more than $20 million in fundraising contributions in August alone, as grassroots donors rallied to support the president amid two back-to-back indictments.
The report also pointed out that the millions of dollars in Trump's campaign account was worth "30 percent more than a SuperPAC dollar" and was "more efficient and effective in spend."
"Despite the constant attacks, bogus indictments, and banana republic tactics, Republican voters recognize President Trump is the most electable Republican in the field — a belief that is demonstrated in many recent polls that have Donald Trump besting Crooked Joe Biden," the memo stated.
They asked grassroots donors to give just $50 toward the effort of making America great again.