Photo: Alamy
The Subcommittee on Oversight of the Committee on House Administration revealed that the Jan. 6 committee did not keep records or release data connected to security breaches, per Fox News.
Chairman of the Subcommittee, Rep. Barry Loudermilk, R-Ga., stated, "Nothing was indexed. There was no table of contents index. Usually when you conduct this level of investigation, you use a database system and everything is digitized, indexed. We got nothing like that."
He noted a lack of security breach information and that he wrote to Rep. Bennie Thompson, D-Miss., to gain the necessary information on the case, but Thompson wrote in the footnote of the provided information that "the Select Committee was not obligated to archive all video recordings of transcribed interviews or depositions."
Now, President Donald Trump has condemned the lack of proper handling of information by the Jan. 6 committee. 
He posted on Truth Social on Tuesday, stating, "So now that I have full Subpoena Power because of the Freedom of Speech Sham Indictment by Crooked Joe Biden, Deranged Jack Smith, and the DOJ, it has just been reported that the Unselect January 6th Committee of Political Hacks and Thugs has illegally destroyed their Records and Documents."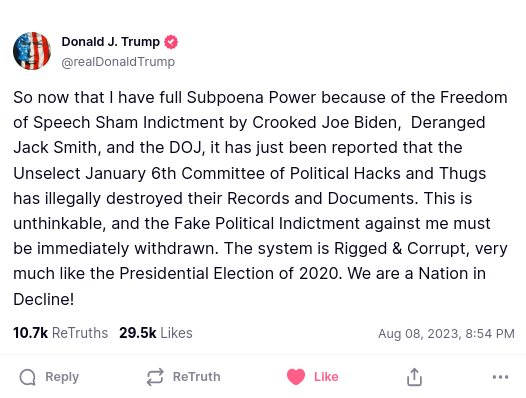 He decried this "unthinkable" action in light of the current investigation against him.
President Trump also pointed out in another post that, "The January 6th Unselect Committee got rid of EVERYTHING!"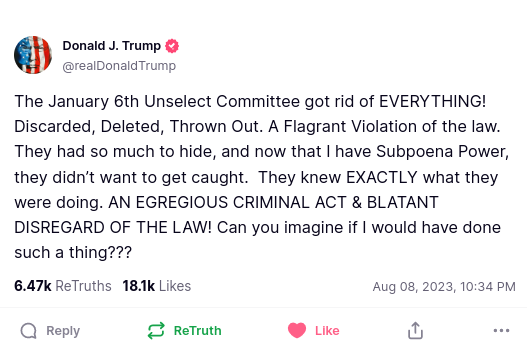 He called it "a Flagrant Violation of the law" and accused them of destroying evidence in order to avoid getting "caught."
President Trump condemned these actions as "AN EGREGIOUS CRIMINAL ACT & BLATANT DISREGARD OF THE LAW!"
Wednesday morning, he called the Jan. 6 committee "CRIMINALS!" as he continues to battle questionable legal challenges.