President Donald Trump released a statement on Tuesday officially endorsing Anna Paulina Luna, Air Force veteran and Republican primary candidate for Florida's 13th Congressional District, just in time for the upcoming 2022 midterm elections.
Trump described Luna as a "great fighter" who puts "America First, unlike her RINO opponents," slamming previous Republican challengers to Luna, such as Amanda Makki, who fail to appeal to the America First movement.
President Trump endorsed the Air Force veteran because she is committed to strengthening the southern border, serving American veterans, and ensuring "Florida's beautiful coastlines are protected," all policies that align with Trump's America First policies. He also makes note on how important the race happens to be, suggesting it is "'key' to taking back the House."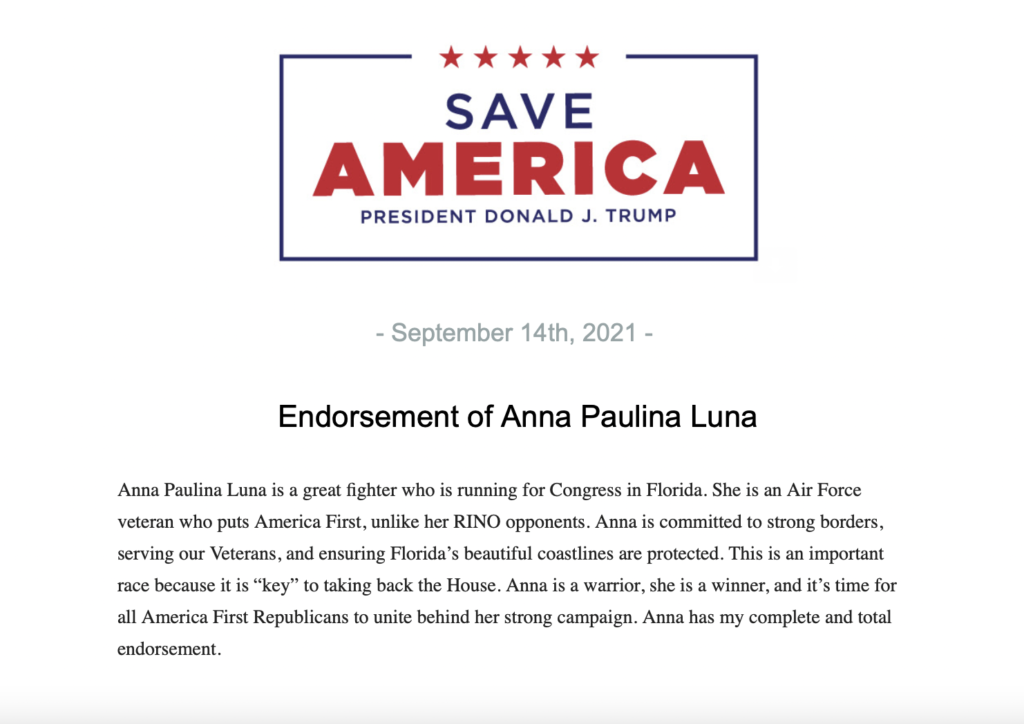 Anna Paulina Luna announced "with great honor" that she has been endorsed for Congress by the "greatest President of our time, the 45th (and next) President of the United States, Donald J. Trump."
Luna is an U.S. Air Force veteran and conservative media personality that has raised awareness on human trafficking, conservative climate solutions, and Hispanic engagement initiatives. She has consistently campaigned with other members of Congress, including Reps. Marjorie Taylor-Greene, R-Ga., and Matt Gaetz, R-Fla., to push forward America First policies across the country.
Luna is running in Pinellas County's Congressional District 13 for a second time against current Democrat Rep. Charlie Crist, after an unsuccessful bid in 2020. But this time, it appears that Luna may have an opportunity to flip the seat red as the Crist runs against Gov. Ron DeSantis.
With President Trump's official endorsement, as well as the backing of many other conservative leaders and representatives, Anna Paulina Luna is positioning herself as a worthy congressional candidate to represent the people of Florida.