Photo: Alamy
Moments before his arraignment in Miami, Florida, on Tuesday, President Trump slammed liberal prosecutors over their seemingly partisan investigations of him while ignoring the alleged crimes of Democrats Joe Biden and Hillary Clinton.
Trump took to his account on Truth Social, criticizing Jack Smith, the special counsel who indicted the 45th president, by calling out his hypocrisy of ignoring Biden's reported illegal possession of classified material.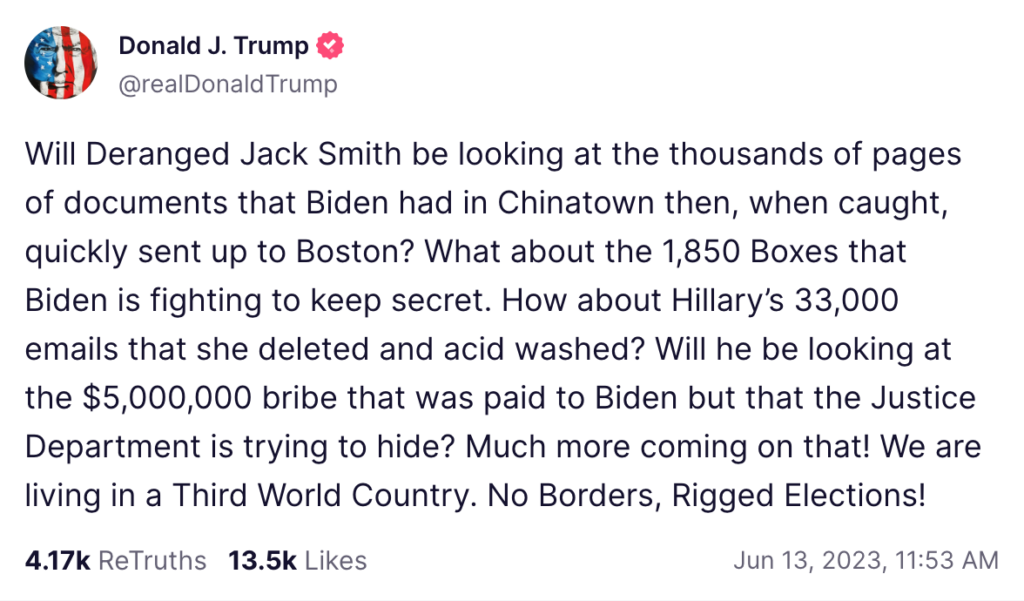 "Will Deranged Jack Smith be looking at the thousands of pages of documents that Biden had in Chinatown then, when caught, quickly sent up to Boston?" said Trump. "What about the 1,850 Boxes that Biden is fighting to keep secret."
Trump also called out his former opponent, Hillary Clinton, over her email scandal that then-FBI Director James Comey and other federal officials refused to pursue any further investigation.
"How about Hillary's 33,000 emails that she deleted and acid washed? Will he be looking at the $5,000,000 bribe that was paid to Biden but that the Justice Department is trying to hide?" Trump wrote.
He continued, "We are living in a Third World Country. No Borders, Rigged Elections!"

In a separate post later on Tuesday, Trump called the day of his arraignment one of the "saddest days" in the history of the United States.
"ONE OF THE SADDEST DAYS IN THE HISTORY OF OUR COUNTRY," wrote Trump. "WE ARE A NATION IN DECLINE!!!"
President Trump will appear in court in Miami on Tuesday afternoon, surrendering for his second arraignment of the year.
Afterward, Trump will travel to his golf club in Bedminster, New Jersey, where he will remark on the earlier arraignment.
Biden's Justice Department is bringing 37 charges against Trump, the leading contender for the 2024 presidential race, related to his alleged mishandling of supposedly classified documents taken during the FBI's 2022 raid of his private Mar-a-Lago home.
Watch Trump's remarks from Bedminster, New Jersey, LIVE on RSBN at 7:00 p.m. EDT.