Photo: Alamy
President Donald Trump responded to Thursday's news that the Jan. 6 Committee had voted to subpoena him in the ongoing "investigation" surrounding the alleged "insurrection" that took place at the U.S. Capitol in 2021.
Trump posted a link to a 14-page letter on his social media site, Truth Social, addressed to Rep. Bennie Thompson, D-Miss., who chairs the Jan 6. Committee. In the letter, Trump responded to the "Unselect Committee of political Hacks & Thugs," and he didn't disappoint.
The letter, titled "PEACEFULLY AND PATRIOTICALLY," opened with a single exclamatory sentence written in all capital letters:
"THE PRESIDENTIAL ELECTION OF 2020 WAS RIGGED AND STOLEN!"
President Trump drew attention to the committee's unwillingness to investigate "massive Election Fraud that took place during the 2020 Presidential Election" and accused them of turning a blind eye to the "Crime of the Century."
He wrote:
"This memo is being written to express our anger, disappointment, and complaint that with all of the hundreds of millions of dollars spent on what many consider to be a Charade and Witch Hunt, and despite strong and powerful requests, you have not spent even a short moment on examining the massive Election Fraud that took place during the 2020 Presidential Election, and have targeted only those who were, as concerned American Citizens, protesting the Fraud itself.

Those who committed the Fraud, thereby having created the Crime of the Century, go unblemished and untouched, but those who fought the Crime have suffered a fate that was unthinkable just a short time ago. We have a two-tier system of Justice in the United States that cannot be allowed to continue.

A Majority of people in our Country say that the Presidential Election of 2020 was determinatively dishonest, including the fact that many Legislatures were overridden by local and State politicians and judges on vital regulations and requirements, which is totally illegal and UNCONSTITUTIONAL."
President Trump also pointed out that since 1888, "no incumbent President has gained votes and lost reelection." He drew attention to his sweeping victory of four bellwether states, including Iowa, Florida, Ohio, and North Carolina, as well as 18 of 19 bellwether counties in 2020.
"No work was done by the Committee on Election Fraud," Trump continued. "We, and a huge portion of the American people, simply asked that it be a part of your Committee's work. It wasn't."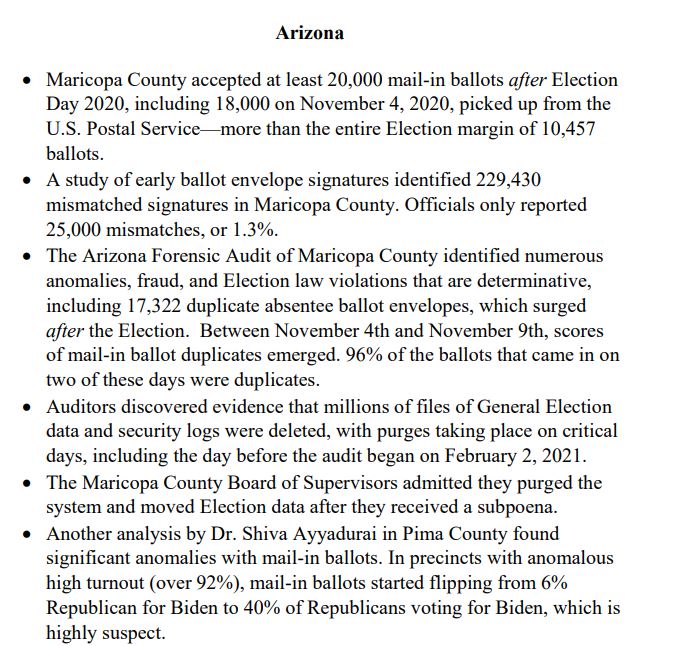 The letter listed numerous examples of evidence of election fraud and ballot problems recorded in the 2020 election in states like Arizona, Georgia, Michigan, Pennsylvania, and Wisconsin.
"You have not gone after the people that created the Fraud, but rather great American Patriots who questioned it, as is their Constitutional right," Trump stated, scorching the committee's inaction.
He concluded, "The people of this Country will not stand for unequal justice under the law, or Liberty and Justice for some. Election Day is coming. We demand answers on the Crime of the Century."