Photo: Alamy
President Donald Trump is back in the courthouse again for a second day of a civil trial that has taken aim at his business dealings at the behest of Democrat New York Attorney General Letitia James.
According to the Associated Press, the president returned to court after opening statements on Monday, where cameras were allowed to capture Trump's stalwart expression in the courtroom.
On Tuesday morning, President Trump slammed the judge presiding over the case, Arthur Engoron, on Truth Social for giving "false and grossly misleading information about my Net Worth by a lying and incompetent Attorney General, such as Mar-a-Lago being worth $18,000,000 when in fact the number would be much closer to 1.5 Billion Dollars, like other properties…"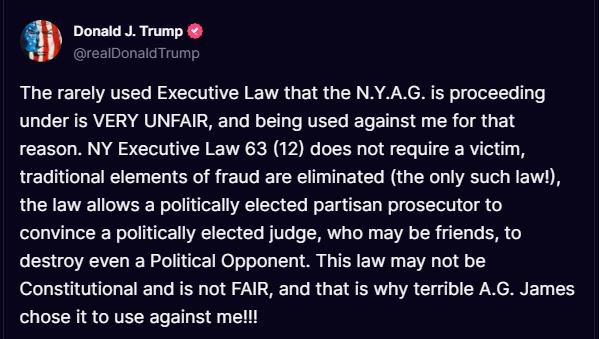 Via video from Fox News, President Donald Trump gave remarks to reporters on Tuesday morning before going into the courtroom, reiterating his Truth Social sentiments and slamming the judge for being given "misleading information" about his net worth by a "very corrupt and incompetent attorney general."
"Because of the fraudulent numbers she's given…this case should be dismissed," he said.
The president added, "Do something about all the illegal migrants pouring into our city and state…her numbers are fraudulent. She's a fraud…and this case should be dismissed, and they ought to get onto [addressing] violent crime and solving the problems of New York City and New York State."
Following Monday's first day at trial, Trump told reporters that he viewed it positively. He stated, "I think that was very good. That last five minutes was outstanding because the judge essentially conceded that the statute of limitations that we won at the Court of Appeals is in effect, therefore about 80 percent of the case is over."