Photo: Alamy
President Trump remarked that Fox News would "die" without him in a comment shared to Truth Social on Wednesday.
The quip came on the heels of a Fox News article citing political commentator Dave Rubin, who remarked on Trump's ability to pull in ratings for the mainstream media in an interview at Turning Point USA's Student Action Summit in July.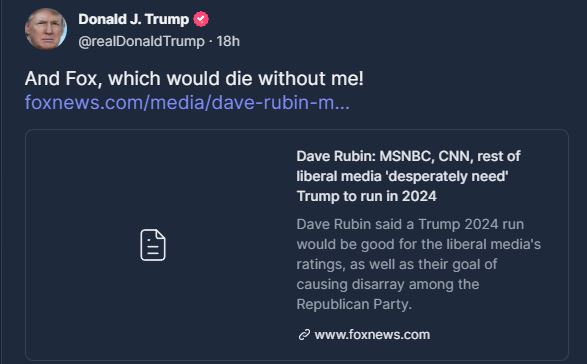 Rubin told Fox Digital, "Even the CNN propagandists, even Don Lemon and Jake Tapper and [Brian] Stelter and [Jim] Acosta who pretend to hate Trump, pretend he was Hitler, treated him completely unfairly, hide stories that go against Biden — they want him to run because he brings them ratings."
Trump shared the article on his Truth Social account, commenting, "And Fox, which would die without me!"
Newsmax recently reported that President Trump had not made an appearance on Fox News for more than 100 days. They additionally noted that Fox's alleged embargo on the 45th president was part of a larger plan to scrub Trump from the playing field as a potential 2024 GOP contender, per The New York Times.
This is not the first time that Fox News has tangled with President Trump. He struck back at the network in late July, creaming "Fox and Friends" for showing "botched" poll numbers. "That show has been terrible – gone to the 'dark side,'" he stated. "They quickly quote the big Turning Point Poll victory of almost 60 points over the number two Republican and then hammer me with outliers."
According to Dave Rubin's interview with Fox Digital, he further noted that the media loves the "craziness" that Trump brings to the table in terms of his approach to politics, which draws the attention of viewers across the country.