Photo: Alamy
President Donald Trump ripped the narrative pushed by Democrats and "RINO" Republicans that former Vice President Mike Pence had no choice but to certify the electoral votes of the 2020 presidential election, despite widespread reports of harrowing fraud.
"So the Democrats, RINOS, and almost ALL others that Mike Pence, or any V.P., had absolutely no right to do anything but send the 'Votes' to the Old Broken Crow, Mitch McConnell, even if they were fraudulent, corrupt, or highly irregular," the 45th president stated in a fiery post shared to Truth Social.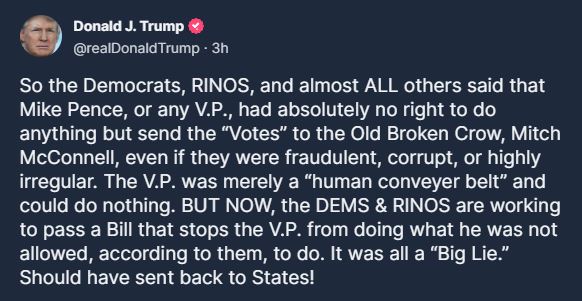 Trump's statement comes on the heels of a bipartisan group of U.S. Senators attempting to rewrite the Electoral Count Act to tightly control state electors and ensure that a sitting vice president cannot change or reject election results, Just the News reported.
"The V.P. was merely a 'human conveyer belt' and could do nothing," Trump continued facetiously. "BUT NOW, the DEMS & RINOS are working to pass a Bill that stops the V.P. from doing what he was not allowed, according to them, to do. It was all a 'Big Lie.' Should have sent back to States!"
President Trump has previously shredded Pence for being a "human conveyer belt" who missed out on a chance to do something great.
"Mike Pence had a chance to be great," Trump stated during remarks delivered at the Faith and Freedom Coalition last month. "He had a chance to be, frankly, historic," he continued. "But just like Bill Barr and the rest of these weak people, Mike – and I say it sadly cuz' I like him – but Mike did not have the courage to act."
According to the Electoral Count Reform Act of 2022, the role of the vice president would be "solely ministerial." It would not allow the vice president any power to "solely determine, accept, reject, or otherwise adjudicate disputes over electors."