Photo: Alamy
President Trump's team released plans on Truth Social "to Deliver Remarks on America First Education Policy" on Thursday. The event will take place in Davenport, Iowa, on March 13.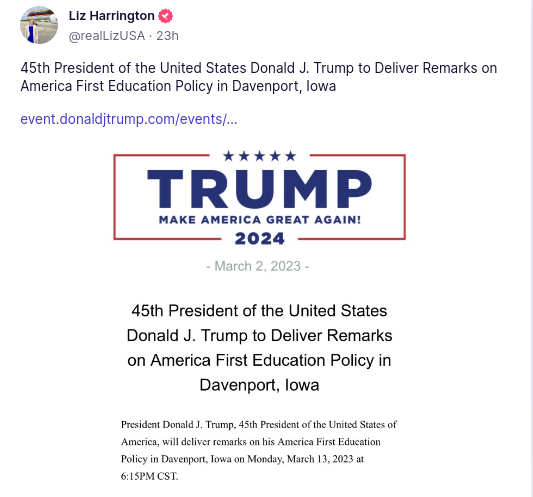 The Adler Theater is hosting the event, which will open its doors at 3:00 p.m. and offer a program that starts at 5:30 p.m. — before President Trump speaks at 6:15 p.m.
Trump has already unveiled his plan to prevent schools from encouraging child sex changes, via RSBN.
America First supporters are also concerned about public education initiatives that teach Critical Race Theory (CRT) and Gender Theory ideologies due to the fact that they have yet to produce any success rates for students and have been criticized for introducing divisive content.
Over 90 percent of students recently surveyed, according to Fox News, have been exposed to CRT concepts by high school age. In addition, trust in the public education system has reached a second all-time low, according to Breitbart.
Trump's remarks on this topic are highly anticipated and tickets for the event are open to the public. Registrants can sign up for no more than two per confirmed phone number and may request spaces on the official event page.