Photo: Alamy
President Donald Trump stated Monday that he believes businesses will "never come back" if his ongoing civil case alleging he inflated his asset values for financial gain is not "dismissed & forgotten."
New York Attorney General Letitia James filed a civil lawsuit against the former president in September 2022, alleging that Trump, his company, and his sons Eric and Don Jr., inflated the value of assets to obtain favorable loans from banks, according to The New York Times.
Trump posted on Truth Social listing the issues he currently believes are wrong with the case, noting that presiding Judge Arthur F. Engoron and James just wanted to make him "look bad."
"Nobody can believe this Political Witch Hunt Trial is still going on. No Victims, No Witnesses (their witness recanted his FAKE story, and said he Lied!), No Defaults, No Jury, No Nothing, only happy Banks etc. There was FRAUD, however, but by the Judge and the A.G., in saying that Mar-a-Lago was worth only $18,000,000, when they knew it was worth many times that amount," Trump wrote.
"They just wanted to make me look bad – All a big SCAM by the New York A.G. in order to get elected, and then to run for Governor, unsuccessfully. The Trump Hating Judge MUST WITHDRAW his 'bull….' early ruling (before the trial even started. HE KNEW NONE OF THE FACTS!). He is devastated by the TRUTH, but just can't let it go. He is OBSESSED!" Trump continued.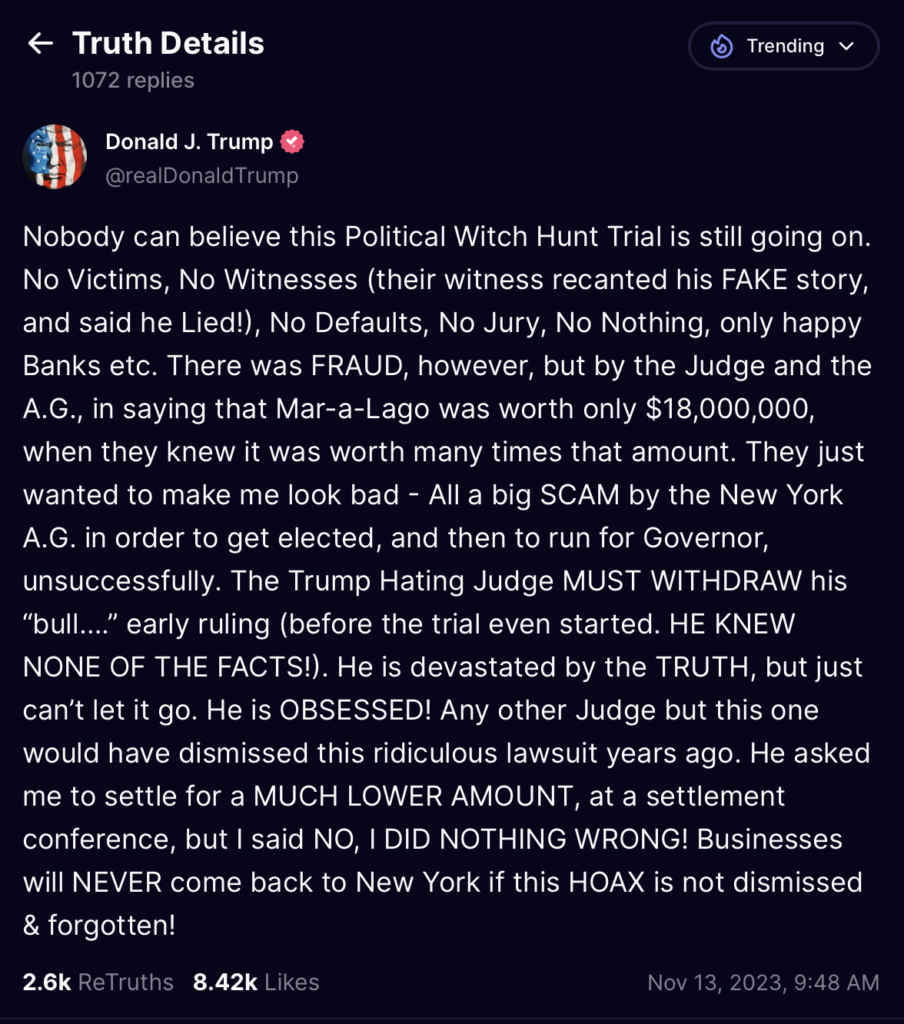 Republican New York Rep. Elise Stefanik recently filed a judicial ethics complaint against Engoron, calling his behavior in and out of the court "inappropriate" and "biased."
Within her letter to the commission members, Stefanik detailed her allegation against the judge noting how he has reportedly repeated biased opinions against the former president.
Engoron has also reportedly been impatient with all the Trumps and their lawyers during the case, notably yelling at the 45th president, "We are not here to listen to what you have to say," while he was on the stand.
"Any other Judge but this one would have dismissed this ridiculous lawsuit years ago. He asked me to settle for a MUCH LOWER AMOUNT, at a settlement conference, but I said NO, I DID NOTHING WRONG! Businesses will NEVER come back to New York if this HOAX is not dismissed & forgotten!" Trump concluded.
Donald Trump Jr., Trump Organization's executive vice president, returned to the stand on Monday testifying in defense of his father and business. After leaving his second cross examine, he additionally called out James and the precedent the case is setting for businesses in New York.
"It's a scary precedent. I don't know how anybody could do business in this city with that. Anyone you speak to who's actually in banking, who's actually in real estate understands that," Trump Jr. stated outside the courthouse. 
Engoron has already ruled that Trump and his sons have committed fraud according to The New York Times, however, the punishment he intends to impose remains unclear as James seeks a $250 million penalty.