Photo: Alamy
President Donald Trump's Truth Social platform has made history this week by filing an unprecedented lawsuit against 20 legacy media outlets, demanding a full retraction of previously published stories concerning the free special platform.
The company announced on Monday:
"Today Truth Social filed a defamation lawsuit that is likely unprecedented in history, incorporating twenty publications—and even more may be added. All of them published the same false information about Truth Social and refused to fully retract their stories."
A few of the outlets included in the lawsuit are The Daily Beast, Daily Mail, CNBC, Mediaite, Guardian News and Media, Rolling Stone, and the Hollywood Reporter.
RSBN previously reported that several big media outlets had alleged that Truth Social had incurred multi-million-dollar losses.
However, TMTG (Trump Media & Technology Group) and DWAC (Digital World Acquisition Corp.) made a huge step in solidifying their merger in November, filing with the Securities and Exchange Commission (SEC) to bring their anticipated business partnership closer to fruition.
At that time, TMTG announced they had sent out more than a dozen retraction statements on the "tsunami of fake news stories about the submission."
Monday's defamation suit seems to be the next step for TMTG in its battle with the media. The court filing reads:
"This case is about an unprecedented and seemingly coordinated media campaign, by no less than 20 major media outlets, to attack Trump Media & Technology Group ('TMTG') and its social media platform, Truth Social, by falsely reporting that TMTG had lost $73 million."
They accused the outlets of being part of a "coordinated effort to damage TMTG's reputation, degrade the firm's financial standing, freeze its access to capital, and torpedo the anticipated merger between Digital World Acquisition Corporation" and alleged that they had further "downplayed TMTG's public statements regarding a positive development."
The filing noted, "All defendants ran nearly identical headlines that reported some variation of 'Trump's Truth Social' having lost '$73 million.'"
Included in the filing was a series of exhibits displaying examples of the alleged legacy media stories.
See below: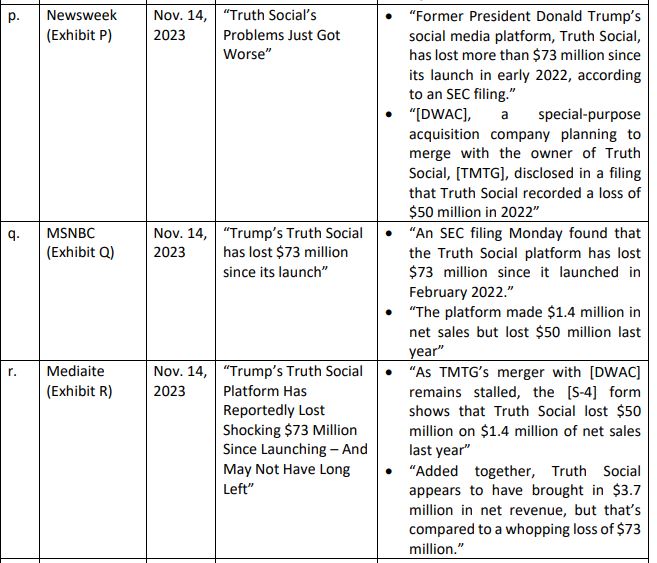 TMTG's lawsuit asks for an award of compensatory, special, and punitive damages to the tune of $1,500,000,000. They are also asking for the "disgorgement of any and all income Defendants have made off of their lies about TMTG."