Photo: Alamy
President Donald Trump reiterated his strong support for the House of Representatives' selection process for a new Speaker of the House on Thursday, hinting that he may be open to filling the seat himself "short term."
On Truth Social, the president pointed out that although he is running for president, he is willing to do what it takes to ensure a short term speaker selection "until the final selection of a GREAT REPUBLICAN SPEAKER is made…"
Trump explained, "I am running for President, have a 62 Point lead over Republicans, and am up on Crooked Joe Biden, despite the Democrat Party's massive Law-fare, Weaponization, and Election Interference efforts, by 4 to 11 Points, but will do whatever is necessary to help with the Speaker of the House selection process, short term, until the final selection of a GREAT REPUBLICAN SPEAKER is made – A Speaker who will help a new, but highly experienced President, ME, MAKE AMERICA GREAT AGAIN!"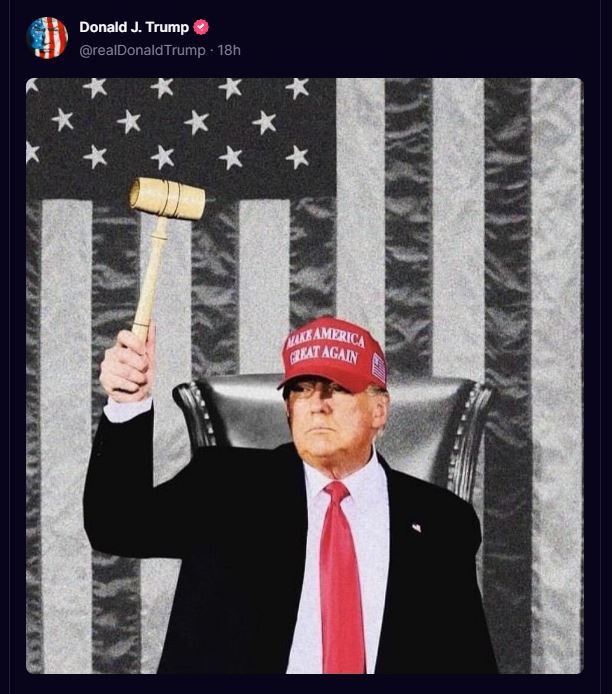 The president's comments expand on remarks he gave in New York on Wednesday, where he confirmed to reporters that he had heard that some Republicans were floating his name for Speaker of the House in the wake of Rep. Kevin McCarthy's ousting from the position.
He stated, "All I can say is we will do whatever is best for the country and the Republican Party. We have some great, great people. A lot of people have asked me about it."
Per RSBN, Rep. Marjorie Taylor Greene, R-Ga., and Rep. Troy Nehls, R-Texas, have both strongly suggested electing President Trump to the position of House Speaker. Via House rules, someone can be elected to fill the role of the speakership without being a member of the House of Representatives. The Constitution Center notes that this has never happened before.
However, until Tuesday, no Speaker of the House until Rep. McCarthy had ever been removed from their position in American history, marking an unprecedented event for Congress.
Currently, Rep. Jim Jordan, R-Ohio, and Rep. Steve Scalise, R-La., have entered the race for the speakership.