California's population of nearly 40 million is incredibly diverse and influential: 39 percent of residents are Latino/Hispanic, and more than 10 million Californians are immigrants from various foreign countries. Over the past year, many residents of the Golden State, including Latinos, have been negatively impacted by draconian measures imposed by Gov. Gavin Newsom since the onset of the pandemic.
Reports analyzing voter turnout in the 2020 presidential election show a record number of Latinos flocked to the polls last November, breaking 50 percent voter turnout for the first time, according to CUNY researchers.
It's worth noting that the record-high Latino voter turnout happened amid uncertainty regarding America's future under a potential Biden or continued Trump presidency, which ultimately was a decision between government control or freedom.
If California's Latino population breaks from voting Democrat, it is possible that such a large portion of California's demographic could swing the election in favor of recalling Newsom during the special election on Tuesday.
It's more than just 'immigration' policies
Latinos have proven they are not a monolithic bloc of single-issue voters. Recalling Newsom is about more than just illegal immigration for Latinos. The petition, which received 1.62 million verified signatures from Californians, takes a stand against: high crime, homelessness, unemployment rates, tax hikes, failure to contain disastrous wildfires, and keeping businesses shut down.
Karina Manuela, a Latino small business-owner and conservative activist from Norwalk, Calif., told RSBN that most businesses were shut down, including her own gym. The only stores allowed to remain open throughout the lockdowns were the big corporations, such as Target and Walmart, which caused many small businesses to permanently close.
"It was a big financial hit not just for myself but for my friends in the fitness industry; I know two gyms that closed permanently due to the [lockdown] orders…Rent is very expensive," Manuela said.
Giving a compelling reason as to why Latino Americans should vote against Newsom in the recall election, Manuela said that many Latinos have family members that originally came to the U.S. to escape their home countries' high crime and government corruption. These same bad policies are strikingly similar to those that Democrats want to implement here.
"Where are we going to go if not the United States? There's nowhere else to go," Manuela insisted.
Danny Ramirez, who lives in Imperial County, Calif., reportedly believes most Latinos hold socially conservative beliefs, but are unable to realize this due to the ongoing disconnect between politicians and Spanish-speaking voters.
He told NPR, "I believe that the majority of the Imperial County is also pro-life and pro-family, but they don't vote that way because they don't know."
"Those Democrats are more Republican than they think," Ramirez added.
Why a recall?
Most Latinos feel that the sitting governor is out of touch with his constituents, and see him as hypocritical for implementing pandemic restrictions that were only applicable to the people he mandated, excluding himself. He was photographed last year ignoring his own restrictions at the French Laundry by hosting a large dinner party without social distancing or face masks despite that it was a mandate he enforced with hefty fines for violations.
The Golden State holds some of the highest homeless and impoverishment rates across the country. "Tent cities" have taken over parts of San Francisco, Venice Beach, and San Diego, with more than 151,000 inhabitants experiencing homelessness. Evidently, housing has become not only scarce, but increasingly expensive. Newsom has also failed to keep his own campaign promises by lacking to produce 3.5 million new housing units by 2025 to deal with housing shortages.
The California Latino Economic Institute recently found that Latinos have been forced out of work at double the rates witnessed last year at the onset of the pandemic, with more than three-quarters of California small business owners reporting that Covid-19 has had a "moderate to large negative effect" on their respective businesses.
Latinos must vote in the recall election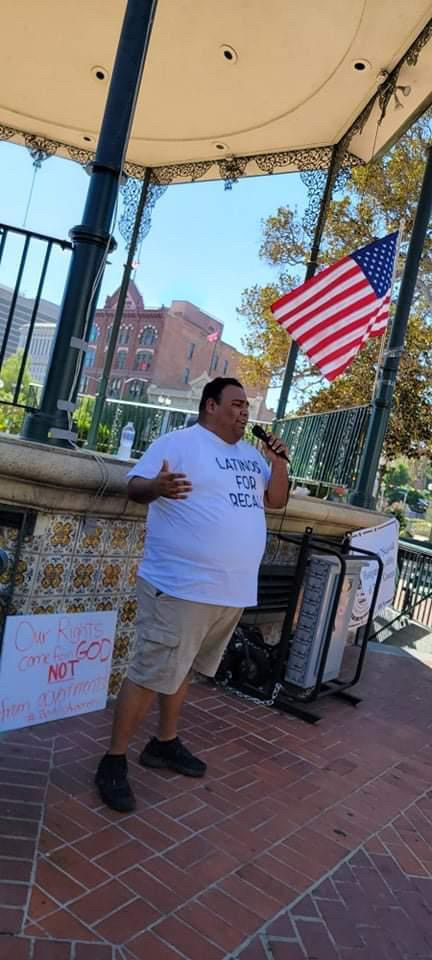 The GOP has made significant gains with predominantly Latino districts, such as those within Florida and Texas, that are usually considered Democrat strongholds. If Republicans are successful in gaining enough of the Latino vote, they could easily regain the House in 2022.
Chairman of the California chapter of the Republican National Hispanic Assembly (RNHA), Eddy Alfonzo Marmolejo, spoke with RSBN to express the importance of Latino voter turnout in the recall election.
"Governor Newsom and the Democrat Party of California are not friends of the Latino community. How does Gov. Newsom pretend to go to the Dodger stadium to say he cares about Latinos when he shut down Latino businesses, laid off Latino workers due to his draconian policies that did not follow the science, but kept major stores like Target and Walmart open, kept bars and strip clubs open, but Latino businesses were closed?" Marmolejo stated, highlighting Newsom's ongoing contradictions as governor.
He mentioned that while Democrats continue campaigning to Latinos that "immigration policies" are the only thing that should matter, he argued that many other issues rank first in typical Hispanic households.
According to Marmolejo, Latinos should get involved with local chapters and conservative political organizations – not just Democrat or progressive organizations. "Latinos know what the problems are. They just need to be shown that there are groups like us where you can speak what you believe, and you're not going to get ridiculed," he said.
"There's a lot of people that were former Democrats that went Republican for these very same reasons," Marmolejo added.
If Newsom gets recalled, who would replace him?
The RNHA of California has officially endorsed conservative radio show host Larry Elder, who is the front-running Republican candidate.
Elder "has the best understanding" of issues affecting poor and middle class workers in California, Marmolejo said.
"There's a lot of quality candidates and at the end of the day we looked at who has the best chance to defeat Newsom; again, this is about defeating Newsom, and bringing positive change to California, and that's Larry Elder," he continued.
Larry Elder, a favorite among conservatives, is slated to win by a landslide compared to other candidates if Newsom gets recalled on Sept. 14. He has campaigned on being a strong advocate for school choice, lowering state taxes, criminal justice reform, as well as finding ways to incentivize local businesses to remain open – all of which are agenda items that promote growth in Latino communities.