The MAGA movement is alive and well as about three million Americans tuned into RSBN's stream of President Donald Trump's "Save America" rally in Des Moines, Iowa on Saturday night.
Not even some of college football's biggest games of the year including Iowa vs. Penn State, and Auburn vs. Georgia, could deter Americans from tuning into President Trump's anticipated remarks.
A conservative estimate of three million viewers tuned into RSBN's Iowa rally stream between Rumble, YouTube, Twitter, and Facebook.
YouTube had the highest number of viewers, racking up a total of 1.4 million during the stream; Rumble saw about 1.5 million; and Twitter had about 119,000.
YouTube analytics shows the livestream's number of playbacks, or individual viewers, at 1,433,247.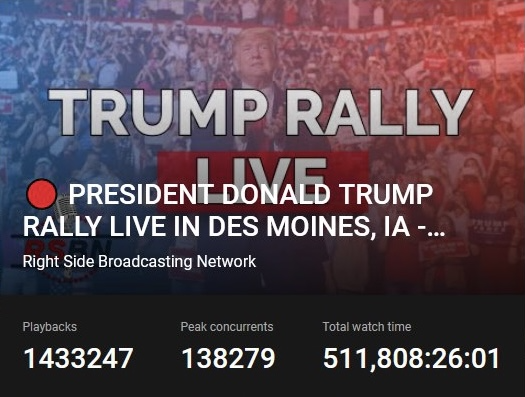 President Trump's rally saw an incredible turnout of tens of thousands of supporters. Some reporters claimed that there were more people in attendance at the Trump rally than at the Iowa-Penn State game. Before the main event, the Iowa-Penn State game was projected onto the screens for rally goers to enjoy prior to President Trump taking the stage.
Both experienced rally goers and many first-time attendees packed the Iowa State Fairgrounds to hear from President Trump. Early estimates indicate at least 20,000 people attended the rally – although this is likely a conservative estimate.
During the rally, President Trump energized his supporters for the upcoming elections, vowing "We will take back America!" from the "radical" left.
Dan Scavino, a close Trump ally and adviser, posted an aerial view of the incredible crowd in Des Moines.
In his continued campaigning for America First candidates running for office in 2022, the 45th president gave his "complete and total endorsement" to Sen. Chuck Grassley, R-Iowa, who is running for re-election.
At the rally, President Trump railed against the Democrats' $5 trillion infrastructure bill, "This monstrosity is so dangerous for our country and so bad…it's a bill to end America as we know it. It's so bad…Republicans have to stay strong. Stay strong. You have to fight."
Urging Republicans to unite against the bill, Trump continued, "Congressional Republicans must stand strong. This is not a time for Republicans to fold, to walk away…don't worry about being impeached, don't worry about anything." He also took aim at the so-called "RINOs," such as Mitch McConnell, stating that some Republicans, "just don't seem to have a spine – some of them."
The statement that received thunderous cheers from the crowd was when President Trump reminded Americans: "Hillary conceded – I never conceded!"
Rallying support for the upcoming elections, the 45th president urged Americans to "send the Radical Left a message they will never ever forget" by electing Republicans up and down the ballot next November.
If you missed President Trump's rally, replay the rally on RSBN's Rumble channel!