Joe Biden and the Federal Trade Commission (FTC) have reportedly launched an investigation into why McDonald's ice cream machines are always broken.
The Biden administration launched their investigation of the fast-food franchise days after the administration left hundreds of Americans stranded in Kabul, Afghanistan, while the Taliban took over the country.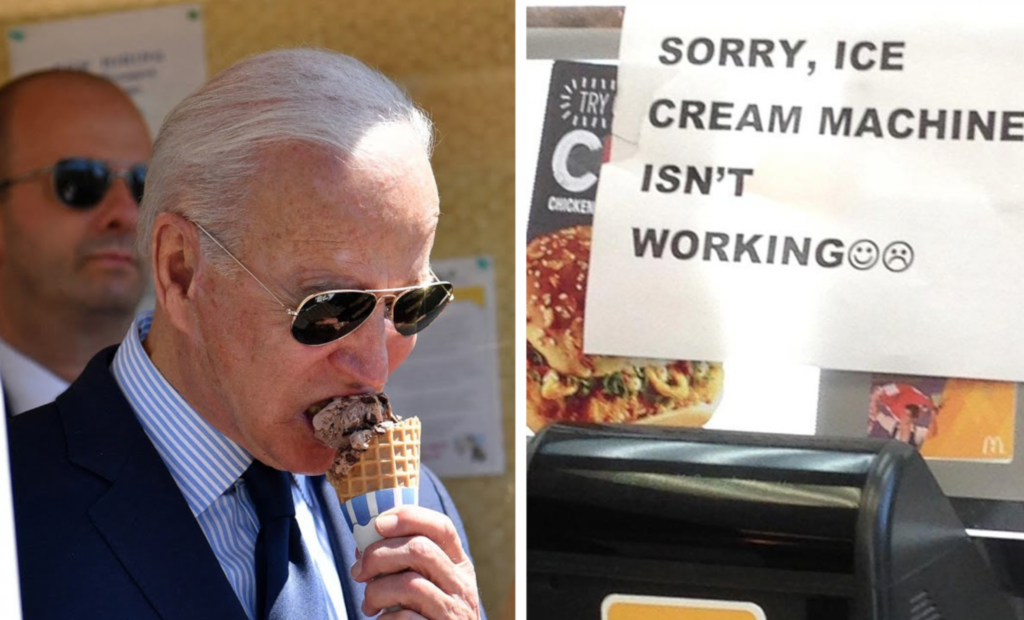 The FTC is looking into why McDonald's has struggled to keep their ice cream machines working. Their ice cream machines are manufactured by Taylor Commercial Foodservice LLC.
According to McDonald's repair rules, machines must be repaired by Taylor Commercial Foodservice or a third-party repair company that has been authorized by Taylor. Restaurant owners are allowed to repair machines, however, the reported complexity of the machines makes them difficult and timely for owners to fix.
Biden's FTC is probing whether or not Taylor Commercial Foodservice purposefully made it difficult for restaurant owners to fix their ice cream machines.
In 2019, Kytch Inc. manufactured a device that would inform McDonald's employees if their ice cream machines were broken. The Taylor machines' created a devise too, however, it was allegedly confusing and displayed error codes that needed to be looked up in a manual.
Taylor Commercial Foodservice warned restaurant owners that Kytch Inc. devices were unauthorized and dangerous. Kytch has denied these claims and sued Taylor.
"This is a case about corporate espionage and the extreme steps one manufacturer has taken to conceal and protect a multimillion-dollar repair racket," an attorney for Kytch Inc. said in the lawsuit.
While the Biden administration continues their investigation of McDonald's ice cream machines, the United States struggles with rising inflation, terrorism in Afghanistan, a crisis at the southern border, and devastation from Hurricane Ida.