Gov. Ron DeSantis, R-Fla., signed four bills into law prohibiting Floridians from being fired over not receiving a Covid-19 vaccination. He also signed legislation protecting parents' rights to make vaccination choices for their children.
"Nobody should lose their job because of these Covid jabs," DeSantis said during a press conference at a car dealership in Brandon, Fla., a location that delivered a slight snub towards Joe Biden.
Biden was given the nickname "Brandon" after an NBC News reporter mistakenly reported that a NASCAR crowd was chanting "Let's go, Brandon," when they were actually chanting "F*** Joe Biden." DeSantis jokingly referred to the Biden administration as the "Brandon administration" earlier this month.
Per the new law, private employers and public schools are no longer allowed to mandate Covid-19 vaccinations in Florida in response to the Biden administration's vaccine mandates requiring all public workers and private companies with more than 100 workers to mandate and receive a Covid-19 vaccine, or face workplace termination.
However, the Occupational Safety and Health Administration (OSHA) announced this week that they will halt enforcement and implementation of Joe Biden's mandate after it was blocked by the U.S. Court of Appeals for the Fifth Circuit.
"Today, we lift people up," said DeSantis. "We are respecting people's individual freedoms in this state, and that is something that is very, very important."
"We follow the science," DeSantis added. "We recognize that people have natural immunity. To say it should be mandated when you can still get Covid—this is a personal choices."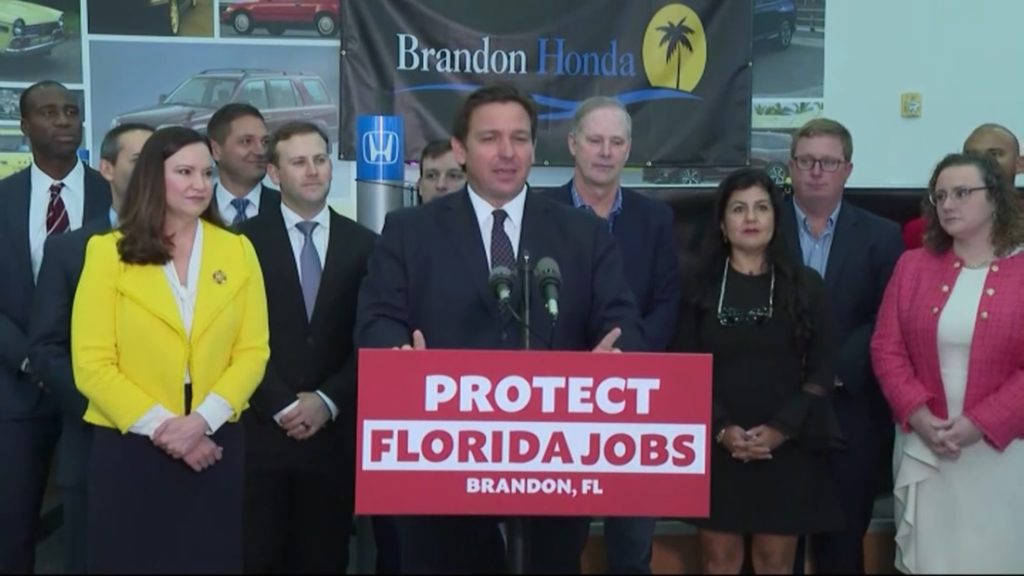 DeSantis noted that this legislation protects jobs for those who are unvaccinated and also those of Floridians who may already be vaccinated that could face termination for not receiving a booster shot in the coming months. The governor cited New Mexico's requirement for residents to receive a booster shot or face workplace termination.
DeSantis slammed the Biden administration over their vaccination mandates that target public and private workers, including first responders, who were hailed as heroes throughout the pandemic only to lose their jobs for being unvaccinated.
"The whole reason that they launched 15 days to slow the spread—the whole reason the U.S. went down the road that a lot of other places are trying to pull out of, is that they didn't want the hospitals to be over run," DeSantis said.
He continued, "Now, they're going to do these mandates, and some nurses—many nurses, could lose their jobs. So, you're actually making the hospitals short-staffed as a result of the mandate," he added. "This is about power, this is about control."
DeSantis signed the bills after calling for a three-day special legislative session to create bills ending vaccine mandates to prevent mass firings of the unvaccinated. The Republican-controlled Florida Senate voted to send four bills to DeSantis for signing earlier this week.
The legislation took effect immediately upon signing at the Thursday press conference.