Photo: Alamy
Following the news of Argentina's new President Javier Milei on Sunday, former President Donald Trump congratulated him in a post, stating that Milei will turn the country around and "Make Argentina Great Again."
Milei, a right-wing economist populist, won Argentina's chief executive office by roughly 12 points, defeating the nation's current socialist Minister of Economics Sergio Massa, according to Breitbart. The former cable news economic analyst gained popularity over his strong views on ridding communism and socialism within the country, with various outlets echoing his comparison to Trump.
"Congratulations to Javier Milei on a great race for President of Argentina. The whole world was watching! I am very proud of you. You will turn your Country around and truly Make Argentina Great Again!" Trump stated in his post.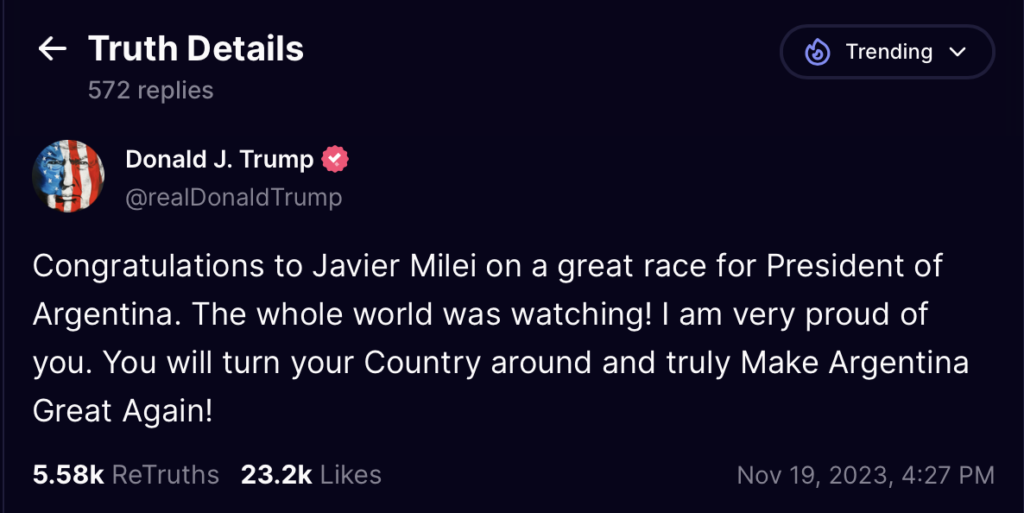 A first voting round was held in October between Massa, Milei, and a third establishment conservative, Patricia Bullrich, with no candidate receiving enough votes to gain the office. However, as Massa and Milei were found to be the top two contenders, Bullrich then endorsed Milei going into the second round of voting.
Milei rose to popularity through his economic analysis on cable news, eventually establishing his own political party in 2021 called Liberty Advances. Following his turn to lawmaking, Argentina watched, for the first time since 1983, the socialist Peronist ruling party coalition lose the majority within their Congress, according to Breitbart.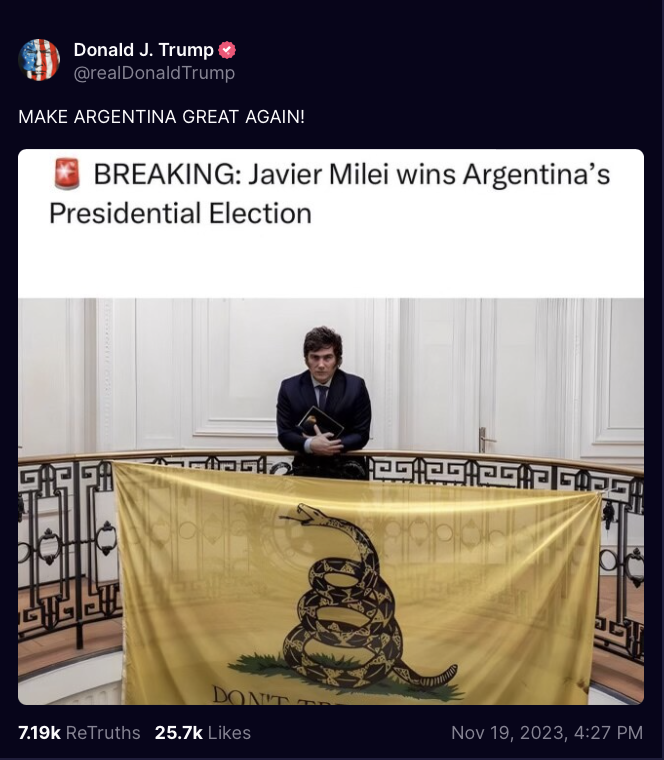 Following his win, Milei spoke to his supporters as they could be heard cheering "freedom" and clapping for the new president-elect. Milei outlined his plans for the country, emphasizing the need for a "limited government," telling the people that they were now retaking "the path that made this country great."
"Today begins the reconstruction of Argentina," Milei stated following his win. "Today we turn the page of our history and return to take the path that we never should have lost. Today, the impoverishing model of the omnipresent state – which only benefits some while the majority of Argentines suffer – ends."
"Today ends the idea that the state is loot to be divided among politicians and their friends. Today ends that vision that the victimizers are the victims and the victims the victimizers. Today, we retake the path that made this country great, today we again embrace the ideas of liberty," he continued.