MyPillow CEO and longtime supporter of President Donald Trump Mike Lindell says he is pulling all of his MyPillow advertisements from Fox News after the outlet refused to run a commercial promoting his upcoming "cyber symposium."
Lindell, who is widely known for his MyPillow products and controversial political opinions, told CNBC last week that he made the decision to stop running the infamous ads after Fox News refused to show a one-minute commercial promoting his cyber symposium about election fraud that will stream from Aug. 10 to Aug. 12.
"I pulled all of my ads. Every one," Lindell said in a statement. "If there are any stragglers today, it's a fluke."
The upcoming event, that Fox News refused to advertise, will address the claim that the 2020 presidential election was hacked by a foreign country. Lindell said he was given an electronic version of every vote cast in the November election and he plans to "show it all."
"This is going to change the world. It's gonna change it, you know, it's gonna show everything and that this election was taken," Lindell said about the event during an episode of Steve Bannon's "War Room."
"These three days in August are gonna change history," the MyPillow CEO continued. "We're gonna say, 'Here it is,' and now everybody look at it and you see and you tell me—you can't change these packet captures, they're forever captured in time."
In a statement obtained by CNBC, a Fox News spokesperson shared the company's discontent with Lindell's decision. "It's unfortunate Mr. Lindell has chosen to pause his commercial time on FOX News given the level of success he's experienced in building his brand through advertising on the number one cable news network."
According to the "MyPillow Guy" himself, he has spent almost $50 million on the network last year and about $19 million this year to run his ads.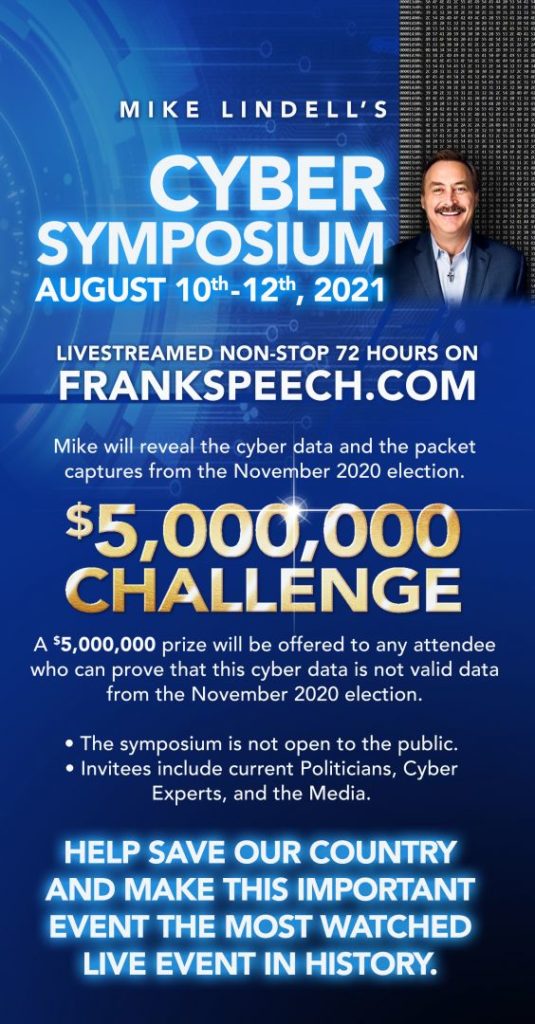 The controversial three-day event, which is only open to politicians, cyber experts, and members of the media, will be held at the South Dakota Military Alliance venue. Phil Waldron, a retired Colonel with the U.S. Army, will spearhead the event.
In a video posted on Lindell's Frank Speech website, he pleads with fellow Americans to get involved by visiting his website and supporting his famous MyPillow products.
"Fox is just, to me, terrible, terrible, terrible," Lindell told The Washington Post. "With Fox News, they're part of this cancel culture. 'Let's just cancel Mike out like he doesn't exist.'"
Because of Lindell's confidence that President Trump was the legitimate winner of the 2020 election, he has offered a $5 million reward to anyone who can prove that his cyber data evidence is not valid.
RSBN is excited to bring you FULL coverage of this event from Sioux Falls, S.D. You can access the live stream through Rumble, or download the RSBN mobile app to stay tuned for more.
Support Mike Lindell by using code "RSBN" for up to 66 percent off at checkout on mypillow.com!