Photo: Alamy
A new poll from NBC News/Generation Lab has found that a shockingly high number of college-age Democrats do not want Joe Biden to run for president in 2024.
According to their findings, 73 percent of second-year Democrat college students are against Joe Biden running for the presidency again in 2024, while only 27 percent of those surveyed said that he should.
Among second-year college students who vote Republican, 57 percent of respondents indicated that they would like to see President Donald Trump run in 2024.
The poll additionally found that only 42 percent of incoming second-year college students generally approve of Biden's job as president, with just 2 percent "strongly" approving. The majority disapprove, with Biden netting a dismal 57 percent of disapproval among respondents.
Following an unprecedented move from the DOJ to greenlight an FBI raid on President Donald Trump's home in Palm Beach, Florida, the 45th president's support among GOP voters, in general, has only broadened.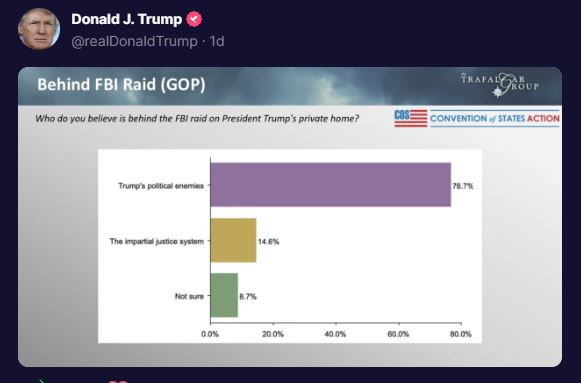 According to a new Morning Consult and Politico poll, 71 percent of GOP voters surveyed indicated they would like to see Trump run again for president in 2024 following the FBI's raid on Trump's home.
Interestingly, a new poll conducted by Trafalgar Group and re-truthed by President Trump on Truth Social revealed that among those surveyed, 76.7 percent of Americans believe that the 45th president's political enemies instigated the FBI raid on Mar-a-Lago.
Further, President Trump crushed it in another survey from Rasmussen Reports, where 46 percent of likely U.S. voters polled said they would vote for Trump if the election were held today. Among Republicans, 77 percent said they would vote for Trump, again crushing Biden's 34 percent of support from unaffiliated voters, per RSBN.