President Trump addressed Georgia Secretary of State Brad Raffensperger in a letter on Friday asking to "decertify" election results due to recent reports of voter discrepancies found among approximately 43,000 absentee ballot votes within DeKalb County alone.
He also criticized Raffensperger and Gov. Brian Kemp of doing a "tremendous disservice" to the state of Georgia and the rest of the country for not doing enough to investigate potential voter fraud reports.
President Trump stated in the letter that the more than 43,000 absentee ballots violated the "Chain of Custody rules," making them "invalid." What he suggested next was even more damning. Trump insisted beginning the process of "decertifying" and announcing "the true winner" of the 2020 presidential election.
Trump told the Georgia Secretary of State that the number of irregular votes "is far greater than needed," to potentially alter Georgia's election result.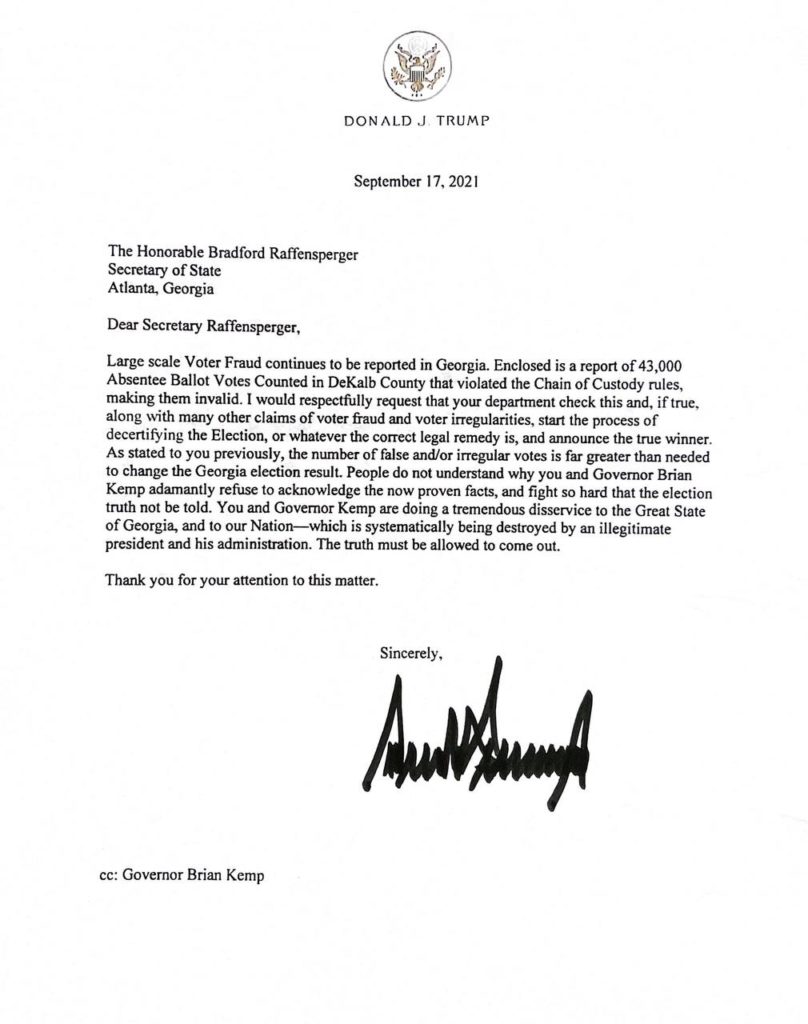 "You and Governor Kemp are doing a tremendous disservice to the Great State of Georgia, and to our Nation — which is systematically being destroyed by an illegitimate president and his administration," President Trump said, referring to Joe Biden's current administration. "The truth must be allowed to come out."
The report Trump mentions in the letter refers to findings published by the Georgia Star News. Of the 61,731 absentee ballots deposited in drop boxes in DeKalb County in November 2020, 43,907 absentee ballots, almost 72 percent, violated chain of custody requirements as set forth in Georgia Emergency Rule 183-1-14-1.8-.14 by the Georgia State Election Board.
The report also found that 46 percent of all absentee ballots, specifically 28,194 ballots, were documented received by the elections registrar the day after the election. But 26 percent of these, or 15,713 ballots, had no receipt time recorded at all by the elections office, as required by the Georgia Emergency Rule. This means that more than 43,000 absentee ballots were counted unlawfully, as they show to be in clear violation of the established rule.
Joe Biden was certified winner of the state of Georgia by a margin of 11,779 votes.
43,907 incorrectly casted votes clearly calls into question the legitimacy of the November 2020 statewide certification by Raffensperger. Verifying and investigating this matter further should pose as no problem to the secretary of state, considering that Fulton County held its own fair share of voter discrepancies as ballots were revealed to be scanned multiple times during the recount process following the November 2020 election.
Raffensperger previously admitted that the incompetence shown by Fulton County top election officials should cause them to be "removed" immediately, because "Fulton's voters and the people of Georgia deserve better."
The state of Georgia deserves transparency and electoral integrity, but the rest of the country deserves answers, as well. If Raffensperger moves forward with this investigation, we may soon find out more revelations on whether fraud ultimately influenced the 2020 presidential elections.