Photo: Alamy
President Donald Trump is on the road again, this time heading to Sioux City, Iowa, next Thursday, to hold a Save America Rally.
The announcement made Wednesday by the president's Save America PAC, revealed that Trump will visit the Sioux Gateway Airport on Nov. 3 to deliver remarks in support of his endorsed candidates, including Iowa Gov. Kim Reynolds and Sen. Chuck Grassley.
Notably, more voters in the Hawkeye State voted for Trump in 2020 than any other presidential candidate in modern history, and 73 percent of Iowans believe the nation is headed in the wrong path under the current presidential regime, the press release claimed.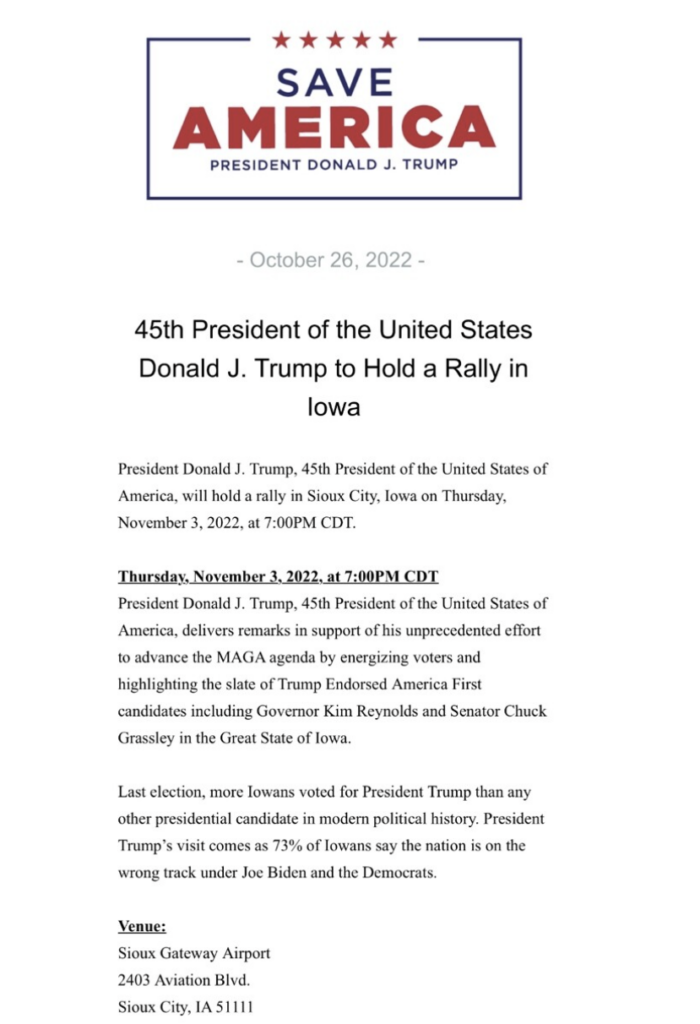 Republicans also hold a strong lead over Democrats in the state, with Republican voter registrations increasing to nearly 85,000, voter activist Scott Presler announced in July.
"A month ago, Republicans had an advantage of 65,382 voter registrations in IOWA. Today, that lead has been increased to 84,751," Presler tweeted.
For rallygoers, registration will open at 8:00 a.m. CT, with doors opening at 2:00 p.m. Guests speakers are set to take the stage at 4:00 p.m., followed by President Trump at 7:00 p.m.
Supporters can find tickets for the rally here.
Viewers can tune into RSBN for more information and all-day, LIVE coverage.