Op-ed by Summer Lane | Photo: Alamy
The victories of 2022 inarguably belong to President Donald Trump's historic America First movement. As the year winds to a close, it's easy to reflect on everything that went wrong in 2022, but thanks to the America First moment, perhaps we should instead focus on everything that went right. The election season has left many people fatigued, but as the path to 2024 has opened wide, the fight for freedom and liberty has only just begun.
Throughout the year, Trump held a range of rallies throughout the nation, bolstering support for candidates who would challenge the GOP status quo and give the U.S. a fighting chance to regain its footing amid the train wreck of the Biden administration.
While most in the media are quick to label 2022 as disappointing, when the evidence is laid bare, it is clear that the past year has been historic for several reasons.
A return to free speech
In February 2022, President Donald Trump launched his long-awaited social media platform, Truth Social. Poised to hit back against the rampant censorship policies of Big Tech platforms like Facebook, the app soared to number one in the Apple App Store upon its release. Throughout 2022, the app expanded its reach by providing access on Samsung and Android devices, including the Google Play store.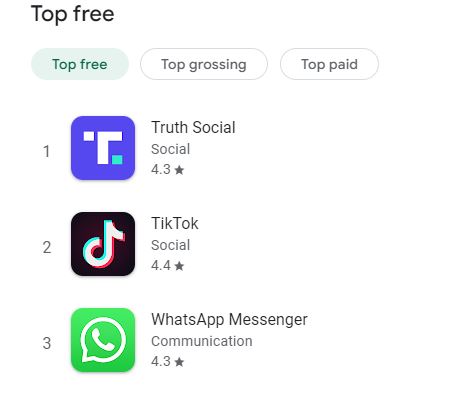 Truth Social has grown exponentially since its launch in February, providing competition in the social media realm and boasting exclusive access to "Truths" by President Trump as he gears up for what is sure to be an intense 2024 presidential campaign.
The demise of Roe v. Wade
In June, the U.S. Supreme Court overturned the 1973 ruling of Roe v. Wade, returning the issue of abortion to the sovereign states. In the biggest win for life in decades, proponents of the unborn across the nation rejoiced.
The historic Supreme Court decision is something that Americans can directly thank President Trump for. While in office, he nominated three Supreme Court justices, paving the way for the overturning of the 1973 decision.
The president reacted to the decision in June, writing, "Today's decision, which is the biggest WIN for LIFE in a generation, along with other decisions that have been announced recently, were only made possible because I delivered everything as promised, including nominating and getting three highly respected and strong Constitutionalists confirmed to the United States Supreme Court."
There is no doubt that without President Trump, Roe v. Wade would have never been overturned this year. Americans and people of faith owe a debt of gratitude to him for facilitating its demolishment.
Midterm victories
The midterm elections were heated, and President Trump threw his endorsement behind countless candidates to boost the America First agenda in the U.S. The races were overall very successful for MAGA candidates and voters, despite the narrative espoused in the legacy media.
In December, Trump touted his smashing endorsement success rate of 232 wins out of 252 midterm races. "232 out of 252 Midterm Races WON who had my Endorsement, and the Fake News is working overtime to try and create the most negative narrative possible," he said on Truth Social.
Despite a tidal wide of evidence of election-related fraud and vote-counting delays, the 2022 midterms delivered a slate of America First victories, sending new conservative fighters like GOP Senator-elect J.D. Vance (Ohio) to Washington.
Trump's endorsement also gave a helping hand to conservative heroes like Kari Lake in Arizona. Lake has handily become a household name on the battlefield of election integrity, garnering widespread support in the Grand Canyon State.
Lake has also fearlessly committed to fighting election fraud in a whopping lawsuit against Maricopa County election officials and her Democrat opponent, Katie Hobbs, ringing in a new era of conservatism where Republicans don't back down.
Without Trump leading the way, the midterm triumphs of 2022 would have been either slim or non-existent.
A Trump 2024 ticket
This year also delivered an early Christmas present to many Americans who are longing to return to the days of prosperity under the leadership of President Trump. In November, he announced his candidacy for president in a serious and executive event at his home, Mar-a-Lago, in Florida.
"America's golden age is just ahead, and together, we will make America powerful again," he promised.
For millions of Americans, his willingness to run again in 2024 is a welcome relief, and although the path to 2024 may be fraught with hardship, Trump is willing to make a third presidential bid for the sake of saving the U.S. from tyranny.
"We need everyone involved – we need everyone's help," Trump added in his announcement speech. "…We need EVERY patriot on board because this is not just a campaign, this is a quest to SAVE our country."
It is a quest that requires the effort and engagement of every patriotic, hardworking American who recognizes that the freedoms of the sweet land of liberty are on the line. This year, we can be thankful for the biggest victories that 2022 had to offer and give credit where it is due.
Without Trump, the America First movement wouldn't exist. Without Trump, U.S. citizens would still be in the dark about the dirty underbelly of election problems. Without Trump, we wouldn't see the stark contrast between America First policies and Joe Biden's failing leadership. Without Trump, we would not have a path forward, and we must acknowledge that while 2022 had its hard moments, the best and brightest victories belong to America First.