Photo: Alamy
Several days after Truth Social became available on the Google Play Store, the app remains in the top five free apps for Android users.
Even more impressive, Truth Social spent four consecutive days in the No. 1 spot in the Google Play Store immediately following its launch on the store last week.
"#TruthSocial is now on day 4 of being the MOST downloaded app in the Google Play Store!" the platform announced on Monday. "Welcome to our many new users!"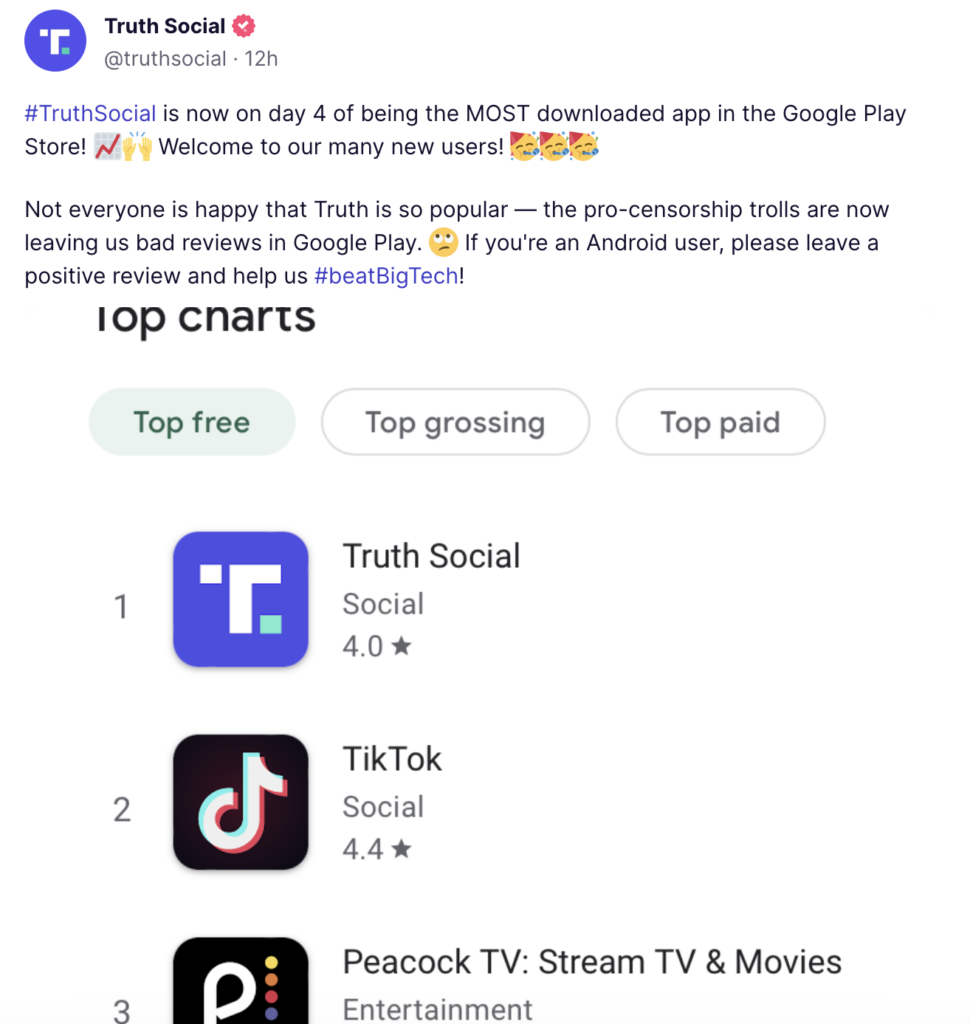 Truth Social's long-awaited arrival on the Play Store comes after the platform had to work with Google to tweak content moderation policies, per RSBN.
Trump Media & Technology Group CEO Devin Nunes told Just the News that Truth Social's expansion to the Google Play Store marked "a significant milestone in our mission to restore free speech online." Nunes told the outlet that it was a "pleasure to work with Google, and we're glad they helped us to finally bring Truth Social to all Americans, regardless of what device they use."
Truth Social's massive success has also drawn detractors, or "pro-censorship trolls," leaving negative reviews in Google Play Store.
"Not everyone is happy that Truth is so popular — the pro-censorship trolls are now leaving us bad reviews in Google Play. If you're an Android user, please leave a positive review and help us #beatBigTech!" the company said.
President Trump also announced earlier this month that Truth Social became available for all Samsung smartphone users through the Samsung Galaxy Store, RSBN reported.
"TRUTH is now available for Samsung Smartphone users to download in the Samsung Galaxy Store! Thank you to Samsung for moving quickly, no need for 'unnecessary' delays or politics. A big milestone for Truth and Freedom of Speech! JOIN TRUTH TODAY!" Trump said in a post.
On the Samsung milestone, Nunes said they "weren't sure how easy they would be to work with. But we went out, we worked with them, and boom — we got it done. We're now on the Samsung Galaxy store."
"I think that what this shows me is that a lot of these companies are deciding whether or not they're going to be with Big Tech tyranny or not. I think where you see Samsung coming down with this quick approval for us is great. And granted, it's not across all of Android, but it is in the largest segment of Android," the former congressman added, suggesting that even large corporations are fed up with Big Tech's anti-free speech policies.