Photo: Alamy
The great state of Texas has voted to reelect Gov. Greg Abbott, R-Texas, for another term, alongside Texas Attorney General Ken Paxton (R).

Abbott's and Paxton's victories are hardly surprising, as most polls had both of them up by quite a wide margin heading into Election Day. For example, a CWS research poll conducted right before the midterms found that Abbott had a whopping 11-point lead over his opponent, Democrat Beto O'Rourke.
According to Fox News, Abbott netted victory at 55.56 percent to O'Rourke's 43.17 percent with just over 71 percent of precincts reporting.
Abbot snagged an endorsement from President Trump for his reelection campaign, breathing fresh life into the incumbent governor's bid to remain in the governor's mansion.
As reported by RSBN, Trump wrote in his 2021 endorsement that, "Greg Abbott is a fighter and a Great Governor for the incredible people of Texas." He continued, "Governor Greg Abbott will continue to be a great leader for the Lone Star State, and has my Complete and Total Endorsement for re-election. He will never let you down!"
Attorney General Ken Paxton has also been a staunch advocate of buttoning up the border and challenging the Biden administration, gaining the trust and endorsement of President Trump, too.
Paxton won his reelection with big margins, snagging 54.3 percent of the vote against his Democrat challenger Rochelle Garza, per the Texas Tribune.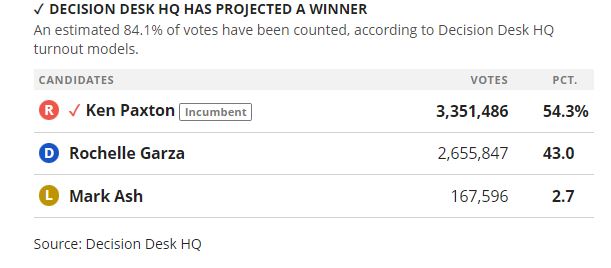 Paxton famously filed a lawsuit against the Biden administration in October 2021, telling the crowd, "Let's go Brandon, we'll see you in court." The lawsuit pertained to the ongoing crisis at the southern border, per RSBN.
Paxton and Abbott's victories in Texas have reiterated the state's position as a conservative stronghold.