On Oct. 27, 1858, the 26th President of the United States, Theodore Roosevelt, was born in New York City, New York.
Also known as "Teddy," Roosevelt was sick and frail as a young boy, suffering from severe asthma and weak eyesight. However, as a teenager, he followed a program of strenuous physical exertion in order to rid himself of his ailments, developing a strong physique through gymnastics and weightlifting.
Roosevelt graduated from Harvard College in 1880, and married Alice Hathaway Lee with whom he had one daughter, Alice. He was elected to the New York State Assembly at age 23 and served two terms (1882 – 1884). However, he left politics in 1884 after the deaths of both his wife and mother on the same day. He spent the next two years at his cattle ranch in the Dakota Territory.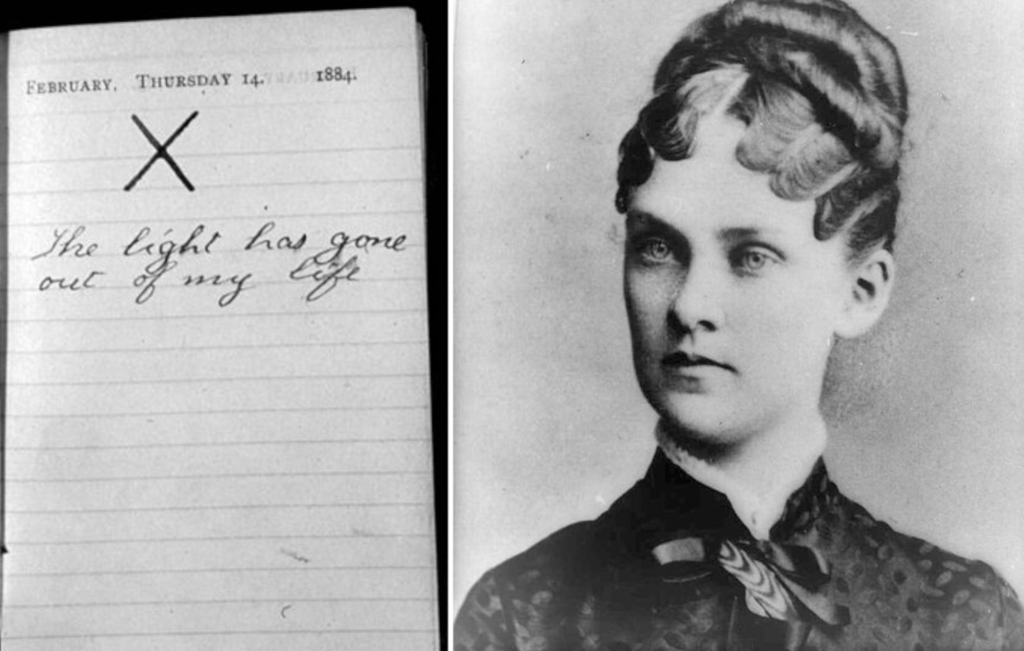 Roosevelt returned to New York in 1886 and married his childhood sweetheart, Edith Kermit Carow, and raised six children together, including his daughter Alice from his first marriage. After an unsuccessful bid to become mayor of New York City, President Benjamin Harrison appointed Roosevelt to the U.S. Civil Service Commission. In 1895, Roosevelt became president of the New York Board of Police Commissioners. In 1897, Roosevelt was appointed as assistant Sec. of the U.S. Navy by President William McKinley.
After the Spanish-American War began in 1898, Roosevelt left his post in the McKinley administration to become colonel of the First U.S. Volunteer Cavalry, known as the "Rough Riders," who were sent to fight in Cuba. He led the Rough Riders in the uphill charge in the Battle of San Juan, and returned to New York as one of the biggest heroes in the country from the war.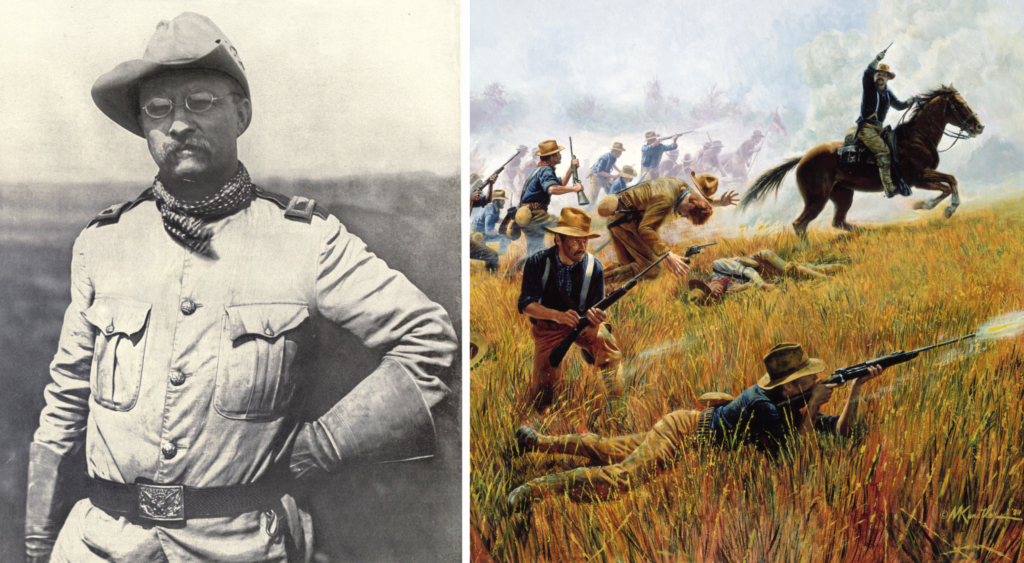 Roosevelt was elected governor of New York in 1898 and aimed to rid the state of corrupt party bosses. His actions irritated the party bosses so much that the leading New York Republican, Thomas C. Platt, conspired with party bosses to get Roosevelt named as McKinley's vice presidential running mate to keep him from running for a second gubernatorial term. Roosevelt was put on McKinley's ticket, and the Republicans won a landslide victory over Democrats William Jennings Bryan and Adlai E. Stevenson in the 1900 presidential election.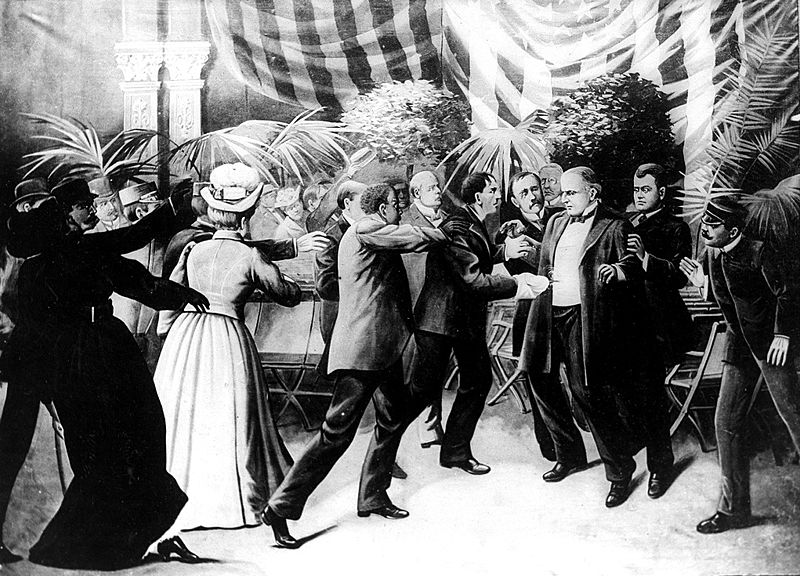 On Sept. 6, 1901, President McKinley was shot in the chest by anarchist Leon Czolgosz, while Vice President Roosevelt was traveling in Vermont. McKinley died eight days after the assassination on September 14, 1901. Roosevelt was sworn in as the 26th President of the United States, becoming the youngest president in American history at 42-years old. Roosevelt served as president for a total of seven years after being-re-elected in 1904 to serve a full four-year term.
While president, Roosevelt focused on conservationism, dedicating 200 million acres of land to national forests and wildlife, and pursued "trust-bashing" against major corporations and established the Bureau of Corporations to investigate businesses engaging in interstate commerce. He became the first president to publicly intervene in a labor dispute during a prolonged coal strike in Pennsylvania, negotiating a halt to the strike and higher pay for mine workers.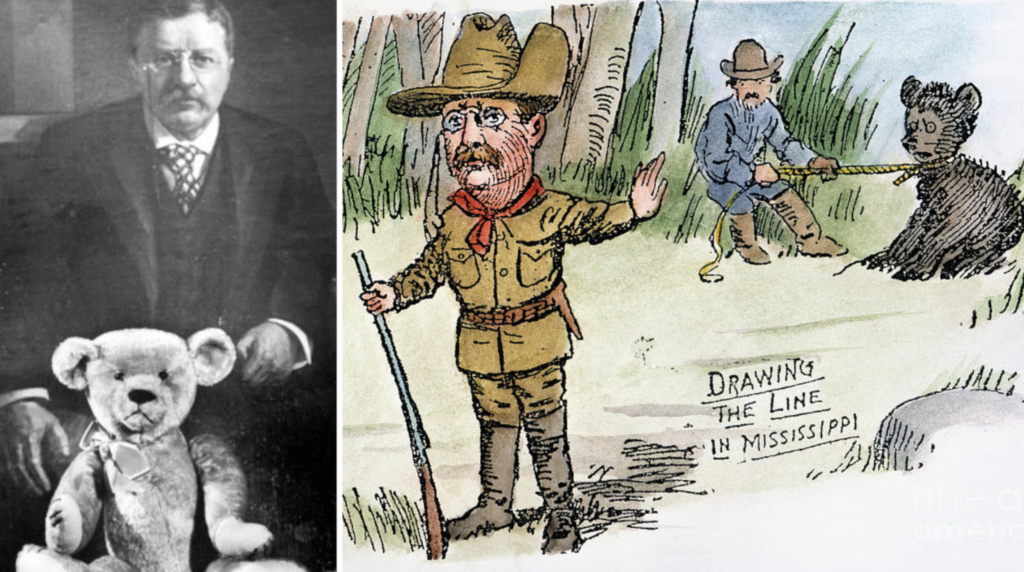 President Roosevelt, an avid hunter, garnered national attention after refusing to shoot a bear cub on a hunting trip in Mississippi in 1902. This inspired a toy maker to name the stuffed "teddy bear" after him, which later swept the nation.
Roosevelt believed that American should "speak softly and carry a big stick" with regards to foreign affairs. He followed his big-stick policy when dealing with Central America, helping Panama secede from Colombia and construct the Panama Canal. He also built up American defenses, particularly the U.S. Navy. Roosevelt negotiated an end to the Russo-Japanese War and won a Nobel Peace Prize for his efforts.
Roosevelt declined to run for another term and threw his support behind Sec. of War William Howard Taft in 1908. Roosevelt left office on March 4, 1909 and traveled through Africa and Europe for ten months as President Taft took office.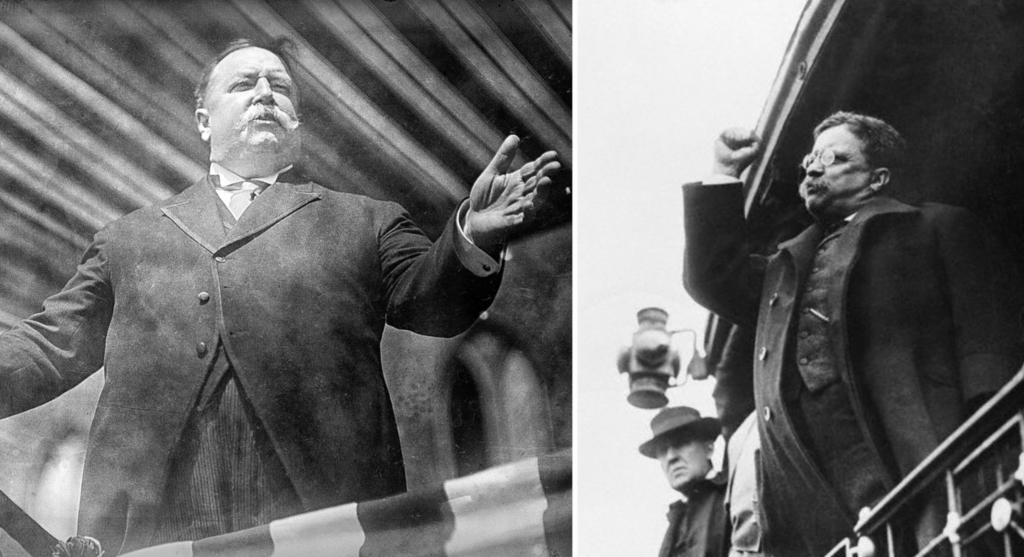 Upon his arrival to the United States, Roosevelt discovered that Taft had not followed through with Roosevelt's agenda. Roosevelt campaigned against Taft for the 1912 Republican presidential nomination, but failed after the party's delegates backed Taft. Roosevelt formed the Progressive Party, known as the "Bull Moose Party," and ran against President Taft and Democrat Woodrow Wilson for president.
Roosevelt was shot in the chest while campaigning in Milwaukee, Wisconsin. However, the bullet had been slowed by his thick overcoat, steel eyeglasses case, and fifty-page speech in his jacket pocket. With a bullet lodged into his ribs, Roosevelt spoke for 90 minutes after the attempted assassination attempt against him.
With a split Republican Party, New York's liberal Democrat Gov. Woodrow Wilson ascended to the presidency with a landslide victory over Roosevelt and Taft in the electoral college.
Since Roosevelt's Bull Moose party managed to elect few candidates, his party evaporated shortly after the election. Roosevelt then wrote an autobiography and traveled to the Amazon where he nearly died of malaria. Roosevelt was an advocate for American entry into World War I and supported Republican Charles Evan Hughes for president in 1916, who narrowly lost to President Wilson.
Roosevelt reconciled with conservative Republicans and was seen as the favorite for the 1920 Republican presidential nomination. However, Theodore Roosevelt died of a pulmonary embolism on Jan. 6, 1919 at the age of 60.