Photo: Alamy
Special Counsel Jack Smith has requested to hold the trial of President Donald Trump regarding his right to question the 2020 election on Jan. 2, 2024. 
According to Axios, this request was filed Thursday. Smith's office stated that the timeframe "represents an appropriately speedy trial in the public interest and in the interests of justice." 
But President Trump blasted Smith for placing the trial so close to the Iowa Caucus.
He stated on Truth Social, "Only an out of touch lunatic would ask for such a date, ONE DAY into the New Year, and maximum Election Interference with IOWA!"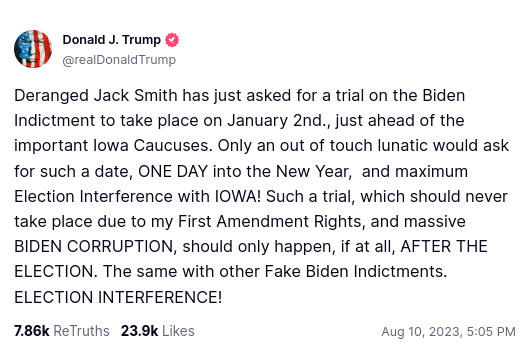 According to local KCRG, the Iowa Caucus has been scheduled for Jan. 15, 2024, just under two weeks after the proposed trial start date. 
Due to now facing three separate indictments, which have questionable grounds, President Trump's legal team has fought to ensure that trial dates are properly scheduled so he can continue to campaign for the 2024 election without interference, per RSBN.
This has proven to be a challenge and has led to concerns about possible election interference schemes instituted by the Biden administration, being that they are now prosecuting Biden's main political opponent, according to RSBN.
In addition, mainstream media coverage of the Trump indictments has far surpassed that of Biden's legal woes.
The lack of Biden crime investigation coverage has led the House Oversight Committee to call out the imbalance stating, "Corporate Media continues to cover for Joe Biden."
President Trump is also, once again, noting the irregularities in coverage and the conflict of interest.
He wrote in his post, "Such a trial, which should never take place due to my First Amendment Rights, and massive BIDEN CORRUPTION, should only happen, if at all, AFTER THE ELECTION."