Photo: Alamy
President Donald Trump reacted to his massive polling lead over eight potential presidential candidates in New Hampshire's 2024 GOP primary election.
The poll, conducted by Emerson College, indicated that Trump earned 58 percent support among New Hampshire GOP primary voters, while Florida Gov. Ron DeSantis came in second place with 17 percent support.
New Hampshire Republican Gov. Chris Sununu, who is reportedly mulling his own presidential bid, took third place with seven percent support, and former U.N. Ambassador Nikki Haley came in fourth place with six percent.
Other Republicans named in the matchup include former Vice President Mike Pence, former Secretary of State Mike Pompeo, South Carolina Sen. Tim Scott, South Dakota Gov. Kristi Noem, and former Maryland Gov. Larry Hogan.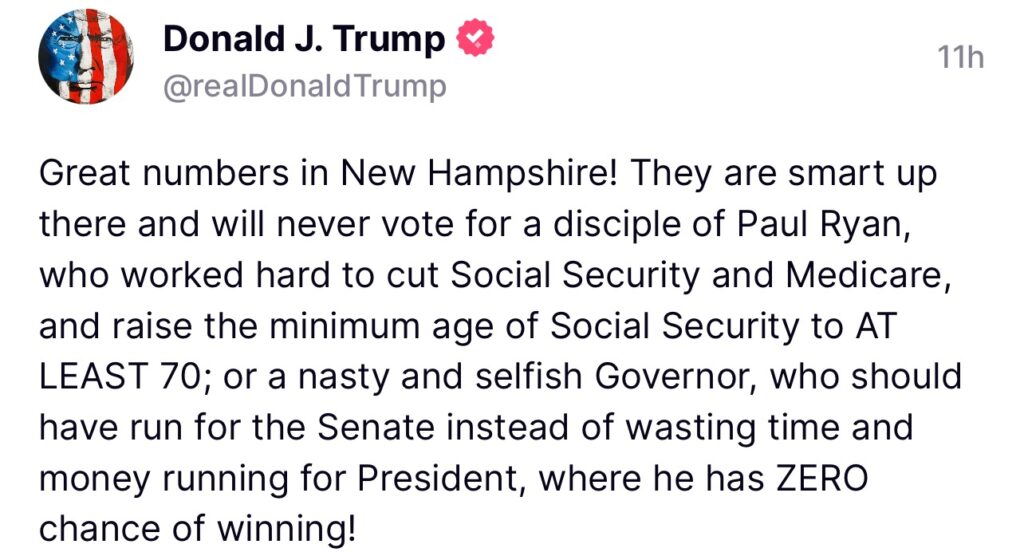 Trump celebrated his "great numbers" in a statement posted to his Truth Social on Tuesday, while blasting other potential candidates by labeling them disciples of former House Speaker Paul Ryan, R-Wis.
"[New Hampshirites] are smart up there and will never vote for a disciple of Paul Ryan, who worked hard to cut Social Security and Medicare, and raise the minimum age of Social Security to AT LEAST 70…," wrote Trump.
The 45th president also attacked Sununu, calling him a "nasty and selfish" governor who "should have run for Senate" in 2022 "instead of wasting time and money running for President, where he has ZERO chance of winning!"
Trump announced he was running for president in November and has since faced challenges from only two major Republican candidates: Nikki Haley and Vivek Ramaswamy.
Although Trump holds tremendous leads over his opponents, he may face a competitive race against Gov. DeSantis, who has not yet announced presidential plans for 2024. However, Trump's lead over the governor has expanded in recent weeks.
A YouGov/Yahoo! News poll from late February also reported that Trump led the governor 47 percent to 39 percent in a two-way race, a six-point increase for Trump since the beginning of the month.
Trump also defeated the Florida governor in a nationwide hypothetical primary, according to the latest straw poll from CPAC, with 62 percent to DeSantis's 20 percent amongst a field of 26 total candidates.
The New Hampshire GOP primary will presumably take place on Feb. 13, 2024.