President Trump praised findings by retired U.S. Army Intelligence Captain and elections data expert, Seth Keshel, who claimed over the weekend that he has the final tally when it comes to the number of fraudulent votes cast in the 2020 presidential election.
In an analysis published on Sunday to Telegram, Keshel examined the final vote counts in all 50 states. After taking numerous factors into consideration to help provide the most possible accuracy, he published a description of his findings that led to his conclusion.
"Here is a tale of the tape for Excess Biden Votes based on trend analysis in the modern political era, considering population growth/decline, recent voter history, and registration information, including registration by party," Keshel wrote.
"My estimates are always lenient, and do not account for cyber flipping of votes," he said disclosing his results. "Trump won: PA, MI, WI, NV, AZ, GA, MN."
"Likely/Possible Trump if cyber flipping occurring: NM, VA, CO, NJ, NH," Keshel continued. "Closer than you thought: WA, OR, RI, CT, HI."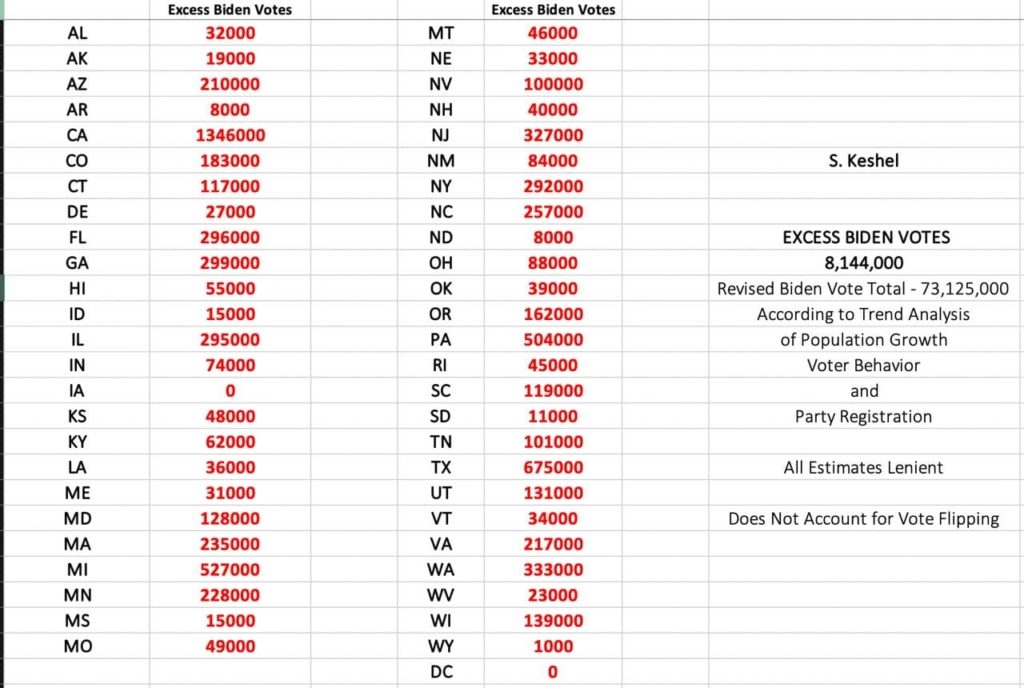 Responding to Keshel's report, President Trump said the "numbers are overwhelming," in a statement released on Tuesday afternoon.
"Highly respected Army intelligence captain, Seth Keshel, has just released his Report on National Fraud Numbers with respect to the 2020 Presidential Election," said Trump. "I don't personally know Captain Keshel, but these numbers are overwhelming, election-changing, and according to Keshel, could be even bigger in that they do not account for cyber-flipping of votes."
"They show I won the election—by A LOT!" he continued.
Trump warned against the Democrats' predictable reaction which will be to "do whatever they have to do to keep the truth from surfacing."
"Now watch the Democrats coalesce, defame, threaten, investigate, jail people, and do whatever they have to do to keep the truth from surfacing, and let the Biden Administration continue to get away with destroying our Country," he wrote. "The irregularities and outright fraud of this election are an open wound to the United States of America. Something must be done—immediately!"
To discuss his voter fraud report, the former intelligence officer joined Steve Bannon on his "War Room" podcast.
"This is a 50 state overview, county by county. Over three thousand counties and independent cities in the United States," Keshel explained. "The red counties, these are places where there is obvious disturbance of registration trends, especially when you have it by party. And an estimate of how many excess votes are in there."
"This is very, this is the same stuff that I will use to predict Florida by 300 thousand plus, to Trump," Keshel continued. "I was one of the few that said Trump would have it by over 300 thousand. The same kind of stuff that led me to get all 50 of these right in 2016."
According to Keshel's investigation, he believes there were around 8,144,000 excess votes for Joe Biden that were fraudulently recorded in the 2020 presidential election.
Leftists "who said I wasn't an elections expert is right. I merely called 50 of 50 right in 2016 and was one of few to have FL to Trump at 300,000+. The 'experts' are the ones who had 350+ electoral votes for Clinton and Biden winning WI by 17," the former intelligence captain said on Twitter. "Can't make this crap up."