Photo: Alamy
Former President Donald Trump claimed on Monday that Hamas militants, who attacked Israel this weekend, have been "pouring" into the United States, blaming the Biden administration's lax open southern border regulations.
"The same people that raided Israel are pouring into our once beautiful USA, through our TOTALLY OPEN SOUTHERN BORDER, at Record Numbers. Are they planning an attack within our country?" the 45th president posted on Truth Social.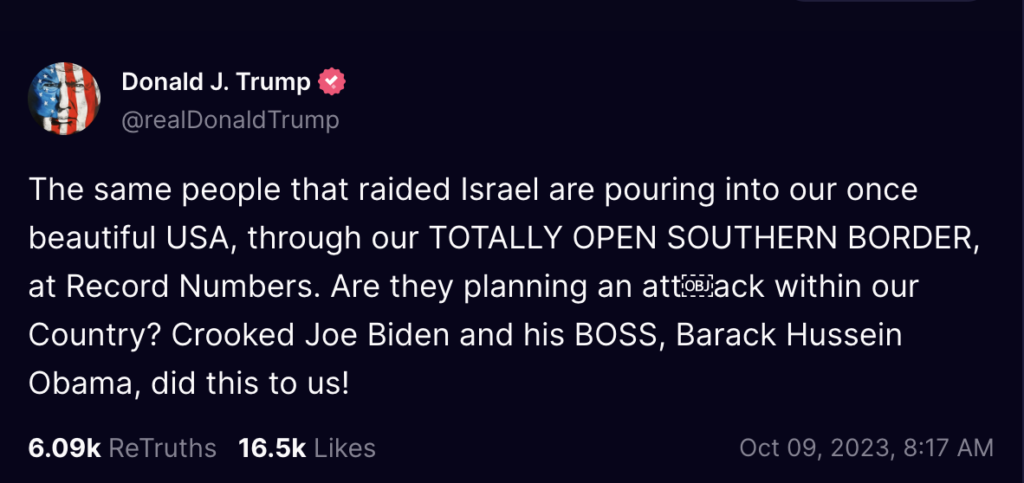 Israel's President Benjamin Netanyahu declared on Saturday that the country is "at war" following a surprise terrorist attack from the militant group Hamas. Since the attack, Israel responded on Monday by targeting the Gaza Strip with a "complete siege" and hitting the zone with airstrikes.
"I have given an order – Gaza will be under complete siege," stated Israeli Defense Minister Yoav Gallant on X. "We are fighting barbarians and will respond accordingly."
While there have been no reports of Hamas militants entering America, protests have taken place in major U.S. cities over the weekend from supporters of both Israel and Palestine.
A large group of Palestine supporters, organized by the Democratic Socialists for America, gathered on Sunday in New York City in support of freeing Palestine from Israel and blaming Israel for the attack due to their "apartheid regime," according to Fox News.
"DSA is steadfast in expressing our solidarity with Palestine. Today's events are a direct result of Israel's apartheid regime—a regime that receives billions in funding from the United States," stated the Democratic Socialists for America on X.
In Los Angeles County, however, vigils and rallies were held in memory of the Israeli victims, according to CBS. Los Angeles-area police agencies have also increased security around Jewish and Muslim institutions throughout the county.
"The Los Angeles Police Department is aware of the turmoil in the Middle East and lives lost. In those areas where we serve both our Jewish and Muslim communities, we will be conducting extra patrol to ensure the safety of all," stated LAPD Chief Michael Moore on X.