Photo: Alamy
President Donald Trump questioned the underlying motives of the recent Hunter Biden indictment.

He posted to Truth Social on Thursday, stating, "This, the gun charge, is the only crime that Hunter Biden committed that does not implicate Crooked Joe Biden. One down, Eleven to go!"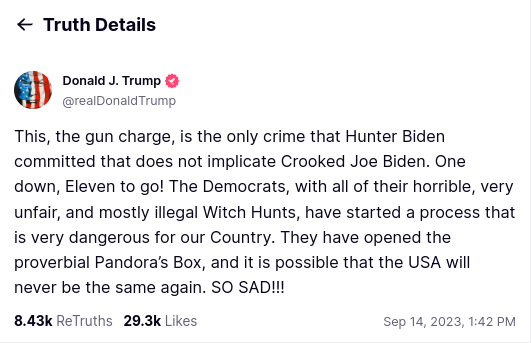 "The Democrats, with all of their horrible, very unfair, and mostly illegal Witch Hunts, have started a process that is very dangerous for our Country. They have opened the proverbial Pandora's Box, and it is possible that the USA will never be the same again. SO SAD!!!" he added.
This came shortly after the news broke that Hunter Biden had been indicted on three counts of illegal gun ownership in 2018, per the Washington Examiner.
The recent indictment of Hunter Biden has also been criticized as a publicity stunt, being that the House Oversight Committee has revealed serious evidence linking Hunter Biden's questionable business practices to an influence-peddling scheme allegedly centered around his father Joe Biden.
Despite White House Press Secretary Karine Jean-Pierre's recent claims that the Biden family crimes investigation is a "political stunt" fueled by "baseless accusations," according to the IJR, conservatives argue that the Biden family is taking advantage of a two-tiered justice system and the new indictment is merely a distraction from much more serious crimes.
Republican presidential candidate Vivek Ramaswamy posted to X, noting, "Today's indictment of Hunter Biden is a smokescreen. Don't fall for it." "This is a fig leaf designed to deflect attention away from the real problem: the Biden family is selling out U.S. foreign policy for their own family's private financial gain," he added.
Turning Point USA Founder and CEO Charlie Kirk stated, "BREAKING: The DOJ has indicted Hunter Biden on federal firearms charges. That's a small improvement on the previous kid gloves, sweetheart deal which tried to give Hunter a pass on a crime any MAGA supporter would get a decade in prison for."
He then asked, "But what about Hunter's unregistered foreign lobbying? What about the money laundering, with Hunter passing on half of his massive oligarch payoffs directly to his dad? What about his human trafficking of prostitutes across state lines?"
House Oversight Committee Chairman, Rep. James Comer, R-Ky., posted, "Today's charges against Hunter Biden are a very small start, but unless U.S. Attorney Weiss investigates everyone involved in the fraud schemes and influence peddling, it will be clear President Biden's DOJ is protecting Hunter Biden and the big guy."
Co-host and executive editor of Steve Bannon's "War Room" Natalie Winters noted, "Hunter Biden's gun indictment is the 2023 version of bread and circuses. Good luck trying to distract us from the bribery, treason, human trafficking, and lies of the Biden family."