Photo: Alamy
President Trump's 2024 reelection bid is gaining more support than ever. Despite being decried by various career politicians, badgered by mainstream media, and even indicted on questionable legal grounds, he is polling ahead of Biden.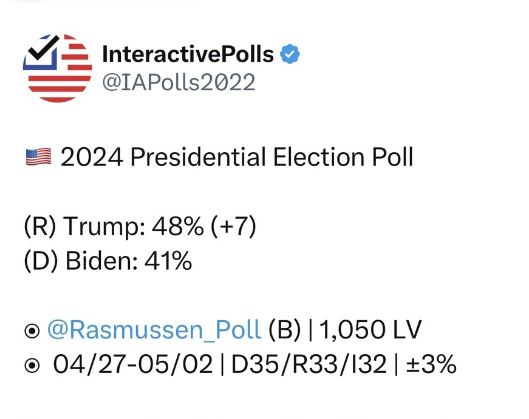 In a recent Interactive Poll, posted to Truth Social, he was seven points ahead of Biden in a survey taken during the week of April 27 to May 2.
The New York Post recently reported that Biden's approval rating had dropped to its lowest level yet. Only 37 percent of American voters support the Biden administration's performance, while a whopping 59 percent said that they disapprove of the current leadership.
Biden's weak economy is being felt across the nation as inflation, rising gas prices, and the destabilization of the dollar all threaten to disrupt American lives. Meanwhile, billions in taxpayer funding has been sent to help Ukraine fight Russia which continues to escalate the threat of nuclear war.
Biden's stance on the debt ceiling has been a continuous battle for conservatives seeking to reign in government spending, according to Breitbart.
Plus the border crisis has grown into a major concern. The Heritage Foundation reported that the Biden administration has shifted billions in taxpayer funding toward prioritizing illegal aliens over the needs of American citizens.
Furthermore, Biden's own alleged crimes are so far-reaching that the New York Post reported that at least a dozen of Biden's family members are being investigated in connection with his potential crime ring.
The polls are reflecting all of these problems and the people's frustrations with them. Meanwhile, President Trump is campaigning for reelection with a healthier record and a commitment to put "America First!"