Photo: Alamy
President Donald Trump shared his thoughts on the 2022 midterm election cycle through a Truth Social post Wednesday, saying it reminded him of when he first ran for president in 2016.
"This Election cycle reminds me so much of 2016, much more so than 2020, where I actually did much better – got 12,000,000 more votes! Fox News and The Wall Journal were terrible to me, much like today, UNTIL I WON THE ELECTION. CNN, when they actually had great ratings, was terrific – They covered me no matter where I went, 24/7," President Trump wrote.
"The big difference is my record: Best Economy & Border, No Inflation or Wars, Energy Independence, Record Jobs, Strong Military, World Wide Respect, and sooo much more!" Trump wrote , highlighting his greatest accomplishments in the White House.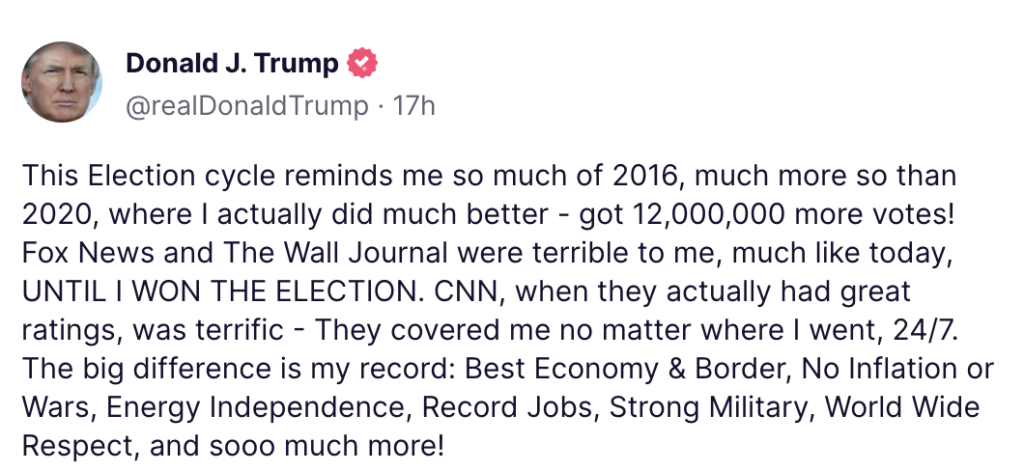 He also defended his impressive endorsement success record in the midterm elections, per RSBN.
"I was 232-22 in the MIDTERM ELECTIONS, and still have to listen to DEMS, RINOS, and the Fake News explain how poorly I did (Also, 98.6% in Republican Nomination Endorsements!)," Trump said, adding that without his endorsements "the numbers would have been a disaster."
While the midterm elections have wrapped up, for the most part, President Trump is still urging Georgiana to head to the polls and vote for U.S. Senate nominee Herschel Walker in the state's runoff election, according to RSBN.
"Georgia, get out and vote for the GREAT Herschel Walker," Trump wrote on Truth Social. "HE WILL MAKE YOU PROUD!!!"