President Donald Trump's ongoing lawsuit against Twitter must convene in California according to a federal judge appointed by Obama.
U.S. District Judge Robert Scola Jr. of Miami, Fla. stated on Tuesday, "The court finds that Trump's status as President of the United States does not exclude him from the requirements of the forum selection clause in Twitter's terms and services." Judge Scola's comments refer to Twitter's litigation policy which stipulates that all lawsuits must take place in the Northern District of California. Conveniently, Twitter's headquarters is based in San Francisco.

Twitter permanently banned the 45th president from its platform after unjustly attributing fault to Trump for events that happened on Jan. 6 when unorganized rioters breached the inside of the U.S. Capitol.
The contention in dispute is whether or not the clause remained in effect once Trump was elected president in 2016.
In a letter drafted to grant the case transfer from Florida to California, Sola writes, "Trump created his Twitter account in 2009 and used it for several years to engage with his followers about politics, celebrities, gold, and business interest." The problem the Trump team faces is that Twitter's lawsuit clause has been in action since at least 2009. Judge Sola ruled that Trump becoming president does not void the pre-conditions of usership.
In rebuttal, Trump's lawyers argue that he is excluded from some of the platform's terms and conditions since he used his account as a public forum during his time as president when he was banned.

Although the ruling is not the outcome Trump was hoping for, it does not come as a surprise. John Coale, one of President Trump's lawyers, was not shocked at all.
"We thought this was a longshot from the beginning," said Coale in a recent interview after the announcement. After taking on the tobacco industry in the 1990s and garnering a $368 billion win, Coale has come out of retirement to take on Big Tech without fear of the Golden State courtroom.
"It doesn't affect the case at all, other than the fact that I've got to fly out to California instead of Florida," said the D.C. native, according to The Hill. The motion of transfer comes just days after a different judge ruled that Trump's lawsuit against Facebook must also be heard in California. President Trump filed lawsuits against YouTube as well for similar reasons.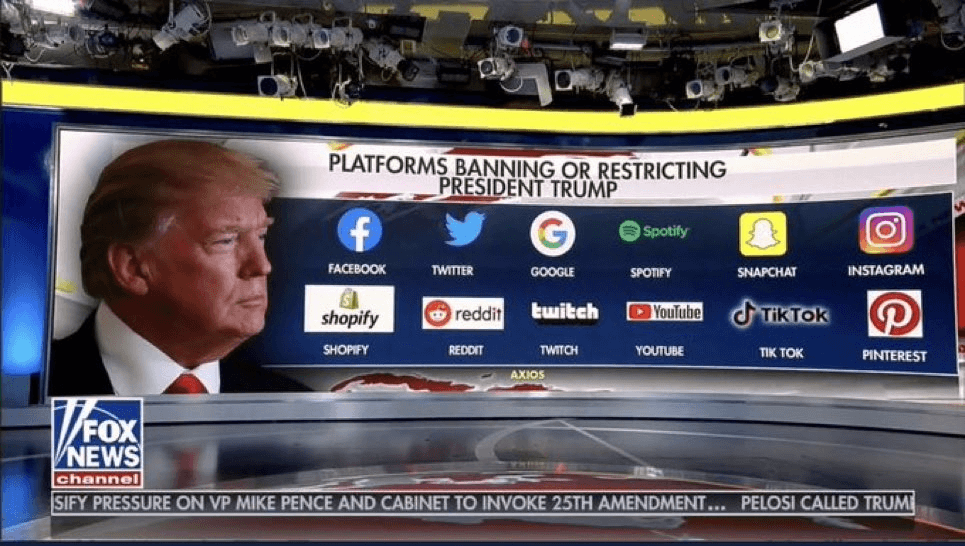 Deplatforming public figures that disagree with the Democrat Party has become a normal practice by the leftists in Silicon Valley.
Most recently, Congressman Jim Banks was outcast by Twitter for correctly addressing the U.S. Assistant Secretary of Health Rachel Levine by his birth sex.
At a time when cancel culture is prevalent among social media, many are wondering what can be done about the suppression of free speech. However, social media companies have immunity protections due to the controversial inclusion of Section 230 within the Communications Decency Act that was signed into law in 1996. The law protects internet companies from being sued for the material posted by users on their networks.
Moreover, Section 230 is defined as, "No provider or user of an interactive computer service shall be treated as the publisher or speaker of any information provided by another information content provider." The clause also protects the rights of service provider to remove any content that violates the "standards" of the service.

The ambiguous definition of what violates a service provider's standards provides shielding for them to act as arbiters of truth and as a news-telling utility. For this reason, President Trump has petitioned the courts to repeal Section 230, accusing the tech giants of colluding with the government.
In his lawsuit against the companies, "These companies have been co-opted, coerced, and weaponized by government actors to become the enforcers of illegal, unconstitutional censorship," said Trump.

As trial teams from both sides prepare for a court battle in California, the 45th president has announced he will be launching a new social media platform, Truth Social, to fight back against First Amendment intrusion.
"I created Truth Social and TMTG to stand up to the tyranny of Big Tech – We live in a world where the Taliban has a huge presence on Twitter, yet your favorite American president has been silenced – This is unacceptable," said Trump in his announcement. The app is expected to begin beta testing in November under the Trump Media and Technology Group.