Photo: Alamy
President Donald Trump heralded his impressive endorsement success record on Friday, touting epic numbers after the Wisconsin primary election this week. "167 and 6 on Endorsements this cycle," Trump said in a Friday post shared to Truth Social.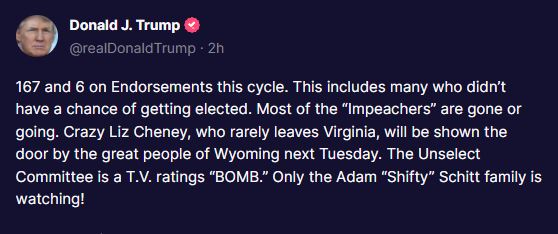 Trump noted that those on the losing end of the 2022 political races would include a few weak links, including the wildly unpopular "RINO" Rep. Liz Cheney, R-Wyo., who infamously voted to impeach Trump while he was president. Cheney has also sat on the Jan. 6 Committee's panel to "investigate" the insurrection at the U.S. Capitol in 2021.
The 45th president continued in his statement, "This [endorsement cycle] includes many who didn't have a chance of getting elected. Most of the 'Impeachers' are gone or going. Crazy Liz Cheney, who rarely leaves Virginia, will be shown the door by the great people of Wyoming next Tuesday."
Trump quipped, "The Unselect Committee is a T.V. ratings 'BOMB.' Only the Adam 'Shifty' Schitt family is watching!"
The president's powerful endorsement helped slingshot Tim Michels, the Republican candidate for Wisconsin governor, to victory on Tuesday in Wisconsin. Michels claimed the primary nomination for the state's governorship, defeating his opponent Rebecca Kleefisch, the former lieutenant governor, per RSBN.
Trump has had a stunning series of successes in the primary election season so far. Trump-endorsed candidates like Arizona GOP gubernatorial nominee Kari Lake and Pennsylvania GOP gubernatorial nominee Doug Mastriano have soared to victory, capturing the attention of Republican voters across the country.
With Trump's endorsement facilitating the successful races of countless America First candidates in the U.S., the 45th president's influence over the political landscape remains solid.
Whether or not Trump will run for president in 2024 remains to be seen, but a new Morning Consult and Politico poll conducted after the FBI's raid on Trump's Mar-a-Lago found that a whopping 71 percent of Republican voters would like to see Trump throw his hat into the presidential ring.