Photo: Alamy
President Donald Trump has been under intense scrutiny since he entered politics during the 2016 presidential race. He has been investigated, and even impeached twice, with no clear evidence of wrongdoing.
In light of the Durham report — which proves that the Trump-Russia Collusion was a political hoax, per RSBN — President Trump's lawyers are now seeking more information regarding the continued investigations.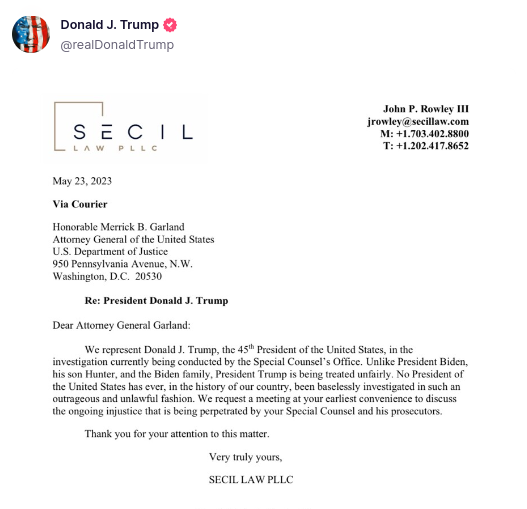 President Trump posted a letter his lawyers sent to Attorney General Merrick Garland on Truth Social. This points out Garland's lack of will to investigate the Biden family amid serious allegations, detailing a double standard.
It states, "No President of the United States has ever, in the history of our country, been baselessly investigated in such an outrageous and unlawful fashion."
According to Breitbart, Garland is heading the investigation alleging that President Trump "mishandled" classified documents – despite that presidents have declassification powers.
Biden also has been accused of mishandling classified documents that he took home as a then-vice president, calling into question whether that was legal for his position.
Yet the focus remains on President Trump.
Meanwhile, House Oversight Committee Chairman James Comer noted on Fox News that Biden is losing favor with American voters over his alleged crimes, per Mediaite. He stated, "It's not normal for the president of the United States, children and grandchildren and in-laws and nieces, and nephews to receive wires from foreign nationals."
While the Biden administration has displayed questionable behavior, the justice department is more concerned with President Trump. Because of this Trump's lawyers are now seeking to meet over the situation with Garland.
They addressed him noting that they plan to "discuss the ongoing injustice that is being perpetuated by your Special Counsel and his prosecutors."