(Photo by Jason Minto/U.S. Air Force via Getty Images)
Gold Star mother Shana Chappell, whose Marine son Kareem Nikoui was killed during the botched Afghanistan troop withdrawal last month, invited President Donald Trump to her son's funeral.
"I would love if somehow my President (you Mr. Trump) could be present as i lay my Beautiful baby boy Lance Cpl. Kareem Nikoui to rest," Chappell wrote in a Facebook post, according to The Daily Wire. "It would be such an honor to meet the real President of the United States of America, President Trump. I love you and America loves you."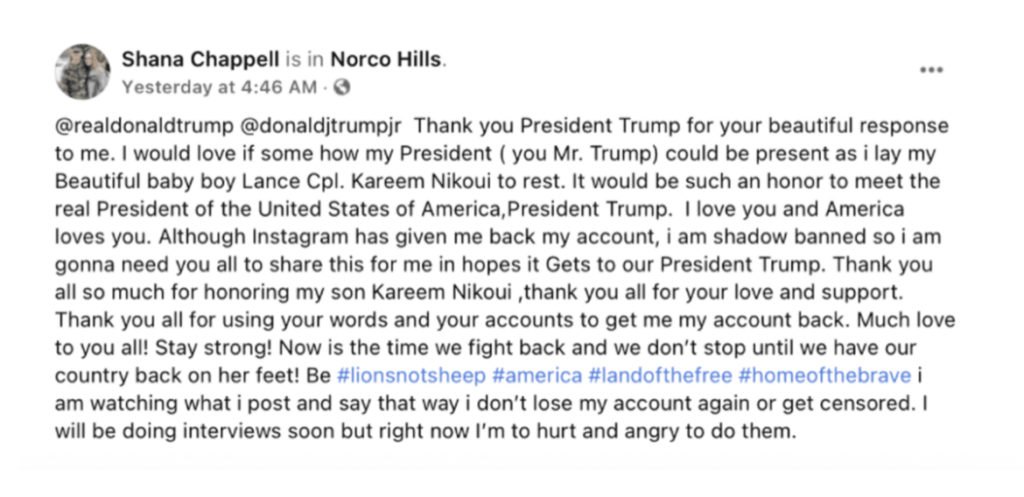 Trump replied to Chappell in his Save America PAC, saying, "Thank you Shana-our country loves you and especially loves your beautiful boy, Kareem."
Both of Kareem Nikoui's parents have strongly blamed Biden for the death of their son. Kareem's father, Steve Nikoui, told the Daily Beast that Biden "tuned his back on him."
Kareem Nikoui was one of 13 fallen service members who died in the ISIS-K suicide bombing targeting U.S. troops near the Kabul airport last month.
"They sent my son over there as a paper pusher and then had the Taliban outside providing security," Steve Nikoui said.
In a lengthy Facebook post, Chappell slammed Biden, writing, "You are not the president of the United States of America Biden!!!! Cheating isn't winning!!! You are no leader of any kind! You are a weak human being and traitor!!!! You turned your back on my son, on all of our Heros!!! You are leaving the White House one way or another because you do not belong there! MY SONS BLOOD IS ON YOUR HANDS!!! All 13 of them, their blood is on your hands!!!!"
Facebook and Instagram disabled Chappell's accounts after her fiery remarks, but Facebook later admitted it "incorrectly deleted" her account.
Trump responded to Chappell then, saying, "Shana, you are 100% correct. If I were President, your wonderful and beautiful son Kareem would be with you now," and "I love you, and I love Kareem."
President Trump reportedly plans to attend several funerals for the U.S. service members killed in action in Afghanistan last month.