Melania Trump announced on Instagram this week that she plans to auction a signed version of the iconic white brimmed hat, styled by her personal designer Hervé Pierre, that she wore during the French president's visit to the United States.
A portion of the proceeds will be going to an arm of the First Lady's 'Be Best' program, which supports children in the foster care system.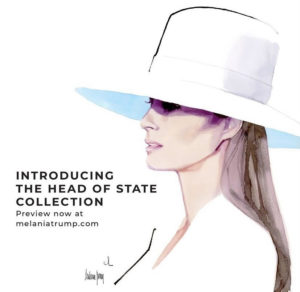 The First Lady made the announcement on Instagram in a caption reads, "Preview the historic 'Head of State' auction today at melaniatrump.com."
"The important collection features three one-of-a-kind signed items, including the iconic white hat worn during the French Republic's State Visit," the post continues. "A portion of the proceeds will support children from the foster care community."
The starting price for the three iconic items is $250,000, according to her website. However, bidding will only be accepted in Solana, a form of cryptocurrency.
The collection also includes an original water color painting by by Marc-Antoine Coulon. The items will also be given a certificate of authenticity, and the NFT will be minted on the Solana Blockchain.
The First Lady announced last month that she is selling a limited number of collectible NFTs (non-fungible tokens) that include exclusive digital artwork signed by Melania.
The auction will be open for two weeks beginning Jan. 11 through Jan. 25. The winner will be given a personalized letter from Melania along with the items that were auctioned, the hat, and the water color painting.