Efforts by Senate Democrats to kill the legislative filibuster so they could exert complete control of the divided 50-50 Senate were decimated after two moderate Senate Democrats joined all 50 Republicans to keep the filibuster.
Sens. Joe Manchin, D-W.Va., and Kyrsten Sinema, D-Ariz., voted with all 50 Senate Republicans on Wednesday night to keep the filibuster after progressives sought to eliminate it in order to pass two "voting rights" bills.
While Manchin and Sinema supported the election bills, they said scrapping the filibuster was going too far.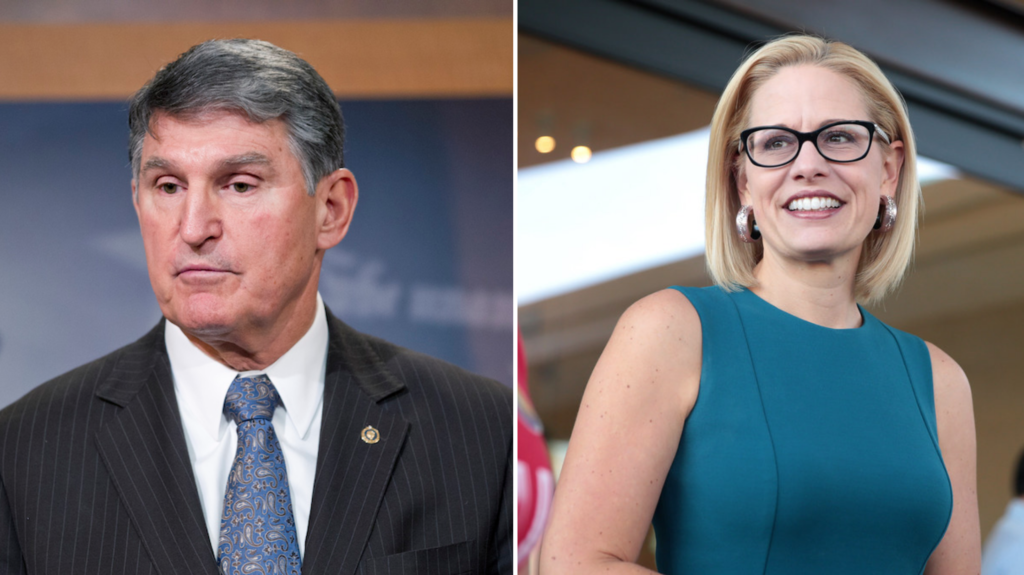 "Allowing one party to exert complete control in the Senate with only a simple majority will only pour fuel on the fire of political whiplash and dysfunction that is tearing this nation apart," said Manchin.
"Contrary to what some have said, protecting the role of the minority–Democrat or Republican–has protected us from the volatile political swings that we have endured over the last 233 years," he added.
Wednesday's vote comes after Republicans blocked two progressive election bills. Afterwards, Sen. Majority Leader Chuck Schumer, D-N.Y., sought the "nuclear option" to make a simple majority, rather than the 60-vote threshold needed to change Senate rules so that he and Democrats could pass the bills. However, he was stopped by Manchin and Sinema.
Meanwhile, 26 of the Senate Democrats that voted to kill the filibuster on Wednesday signed a letter in April 2017 urging Schumer and then-Senate Majority Leader Mitch McConnell, R-Ky., to keep the 60-vote threshold filibuster.
Schumer also supported maintaining the filibuster then as well.
The Senate vote comes a week after Joe Biden's divisive speech in Atlanta, Georgia, where he compared people opposing the elimination of the filibuster to segregationists and racists.
"Do you want to be on the side of Dr. [Martin Luther] King or George Wallace?" yelled Biden. "Do you want to be on the side of John Lewis or Bull Connor? Do you want to be on the side of Abraham Lincoln or Jefferson Davis?"
Biden's speech immediately received backlash from both Republicans and Democrats. Even Sen. Majority Whip Dick Durbin, D-Ill., noted that Biden "went a little too far in his rhetoric." Biden later denied that he ever made those comments.
However, Biden's and Democrats' two voting bills were blocked in the Senate on Wednesday. The bills would have expanded mail-in voting, given convicted felons the right to vote, eliminated voter ID requirements, expanded drop boxes, and legalized controversial ballot harvesting.