Photo: Alamy
Journalist and former Cuban political prisoner Cary Roque passed away at the age of 82 on Wednesday. President Donald Trump honored her memory with a post on Truth Social.
Thursday night, he said, "A great Patriot, Cary Roque, sadly passed away yesterday."
"A woman of great courage and faith, and an inspiration for all freedom lovers around the USA, Cary fought Communist cruelty and oppression as a prisoner, for sixteen years, of Fidel Castro," he went on.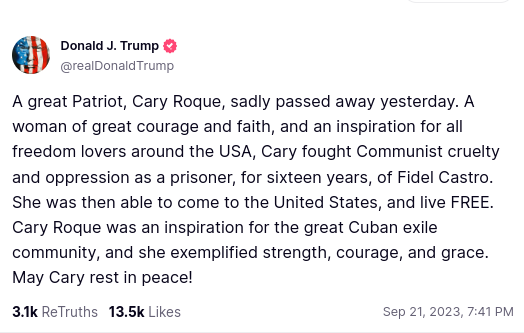 President Trump noted, "She was then able to come to the United States, and live FREE."
"Cary Roque was an inspiration for the great Cuban exile community, and she exemplified strength, courage, and grace. May Cary rest in peace!" he concluded.
According to the anti-communist Cuban-American independent media outlet Babalú Blog, Cary Roque studied journalism at the "Márquez Sterling" National School.
Roque opposed Fidel Castro when he took over and joined the dissident group the Revolutionary Rescue Movement MRR, Babalú Blog reported. In 1961, she was interrogated and arrested at 19 years old for opposing the new communist regime. On September 22, 1961, she was sentenced to 20 years in the Gulag for alleged "terrorism," according to the blog.
For 16 years, she remained in the communist prison until President Jimmy Carter negotiated her release in 1977, according to Babalú Blog, which led to her immigration to the United States. The blog also revealed that Roque lived in Miami and dedicated the rest of her life to restoring democracy in Cuba. 
In 2017, President Trump honored Roque during a speech in Miami, where she hugged him and thanked him, per the Washington Post.
She said, "Thank you to all the men and Cubans who fight no matter what the times can be for the Cuban people."
"We have, Mr. President, we have the Cuban people," she continued. "The people inside my eyes, my homeland. Thank you, thank you, and we appreciate your love."