Photo: Alamy
President Donald Trump spoke at CPAC, via Rumble, and was greeted by a massive crowd chanting "USA!" His 2024 Presidential campaign is heating up as he advocates for America First policies that seek to end corruption in Washington.
Recent polls have affirmed that Trump is on fire with his supporters. Just Tuesday, Interactive Polls posted results of their findings from January through March on TruthSocial.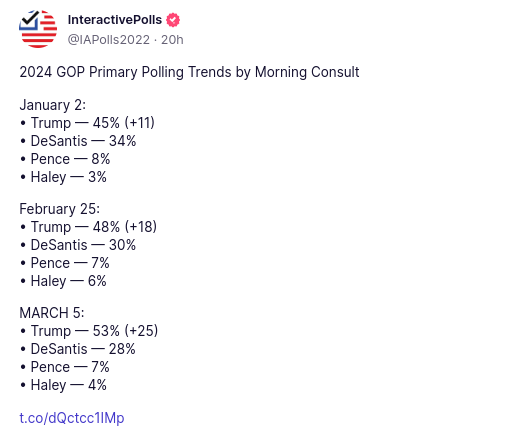 Not only has President Trump led other candidates for months, but his popularity has continued to grow. In January he was favored, leading with 45% of the vote, but in March he is tracking at 53%.
This is likely due to his leadership in aiding the people of East Palestine, Ohio. After a train derailed in the area and toxic chemicals were burned into the atmosphere, the Biden Administration offered little to no aid, but President Trump went directly to the site, per RSBN.
In addition, he has promised to end many of the controversial policies that the Biden Administration continues to push. At CPAC, President Trump vowed to take on the border crisis, socialism, communism, and resecure elections.
His popularity continues to rise as he calls out RINOs and corruption in Washington. He also stated, "We're a nation in decline. Our enemies are desperate to stop us because they know that we are the only ones that can stop them."
As Americans struggle through an uncertain economy, a declining education system, and the threat of nuclear war President Trump's history speaks for itself. He has also gained much notice for stating, "They're not coming after me; they're coming after you, and I'm just standing in their way."