YouTube deleted Thursday's episode of the "Full Send Podcast" featuring President Donald Trump after the podcast reached over five million views during the first day of its release.
In response, Donald Trump Jr. tweeted, "Youtube deleted the @fullsendpodcast with my father, just like he predicted they would, because they don't believe in free speech." He added, "Time to put the podcast up on @rumblevideo!!!"

During the show, the 45th president warned the NELK Boys that YouTube would remove their podcast episode due to Big Tech censorship. Liberal tech companies have attempted to do everything possible to censor the 45th president, causing Americans to become seriously concerned about our
After the interview was banned, Trump told Fox News's Sean Hannity, "You may not know it yet, but you were on the 'Full Send Podcast' for an hour. You made them number one on all of YouTube podcasts. You reached nearly six million views, and then immediately YouTube removed the video."
Trump replied, "I told them… Don't worry, it'll be taken down because I'm doing it." He added, "We talked about very good things, and we talked about a lot of policy-good policies-including energy independence."
The 45th president continued, "I just heard a little while ago they got taken down… This is not a free press. Big Tech is a disaster, and our country is a much different place. What they're doing is really terrible."
Trump has battled Big Tech and the mainstream media ever since he announced his 2016 presidential campaign. The corruption of the media and the censorship of free speech has played an enormous role in Trump's highly anticipated social media alternative, Truth Social.
"This is what they do in Russia, you know," Trump said concerning YouTube's censorship, "The people in Russia, they don't even know they're fighting a war with Ukraine because they have no press."
After comparing censorship with Vladimir Putin's iron grip on the Russian media, he warned Americans, "We don't have a press either when they can do that."
Trump concluded that Big Tech has "taken away the voice of the people" by censoring any speech that they disagree with politically.
YouTube's letter to "Full Send Podcast" stated, "Our team has reviewed your content, and, unfortunately, we think it violates our misinformation policy. We've removed the following content from YouTube."
The official explanation YouTube gave explained, "Content that advocates false claims that widespread fraud, errors, or glitches changed the outcome of the U.S. 2020 presidential election is not allowed on YouTube."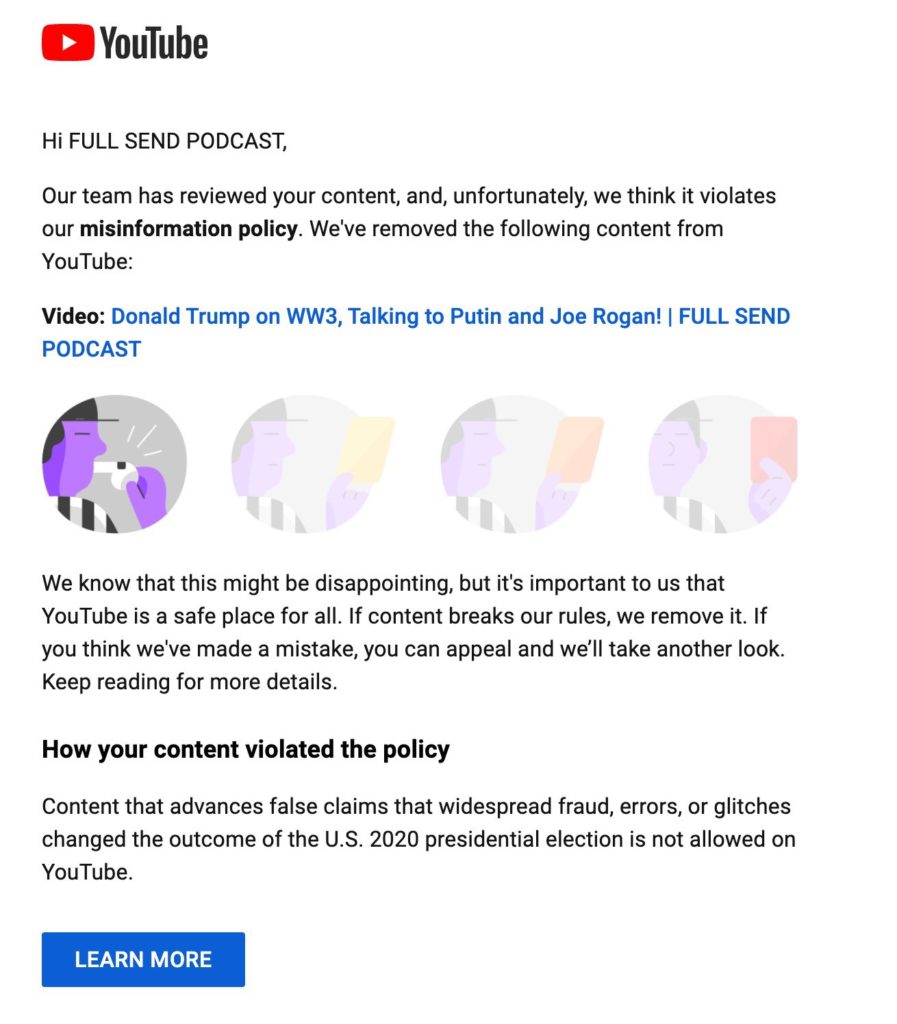 During the podcast episode, Trump and the NELK Boys discussed various topics, including the 2020 election. As the pattern has shown, YouTube continues to prevent users from questioning the legitimacy of the 2020 presidential election, despite evidence showing Big Tech influenced the election and bad actors mishandled ballots.
Despite the censorship, President Trump is closing in on the full launch of Truth Social, a "big tent" for free speech.