Photo: Alamy
President Donald Trump condemned his current New York trial, calling for the case to be dropped. 
Early Wednesday morning he posted on Truth Social stating:
"This Rigged Trial, brought by the Racist New York State A.G. Letitia James before Trump and developer Hating Judge, Arthur Engoron, which should have never been brought in that the so-called STAR WITNESS, SleazeBag Lawyer (for many people) Michael Cohen, admitted last week on the stand that he LIED, and also that your favorite President, Donald J. Trump, or anyone from the Trump Organization, NEVER TOLD HIM TO INFLATE VALUES ON FINANCIAL STATEMENTS, the opposite of what he told the A.G. in order to get this HOAX started."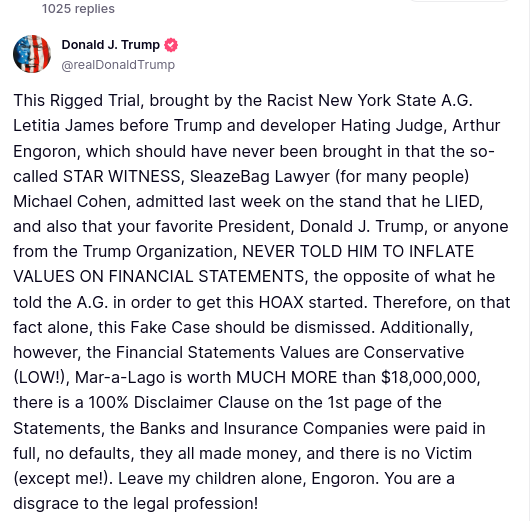 He then declared, "Therefore, on that fact alone, this Fake Case should be dismissed."
"The Banks and Insurance Companies were paid in full, no defaults, they all made money, and there is no Victim (except me!)," he added.
President Trump also expressed concern for his family. He wrote, "Leave my children alone, Engoron. You are a disgrace to the legal profession!"
RSBN reported that President Trump's eldest daughter, Ivanka Trump, has been ordered to testify in the civil fraud trial. The news broke after his ex-lawyer testified against him. 
In addition, Eric Trump has been ordered to testify in the case. RSBN reported that he has stood by his father and decried the legal system for allegedly orchestrating this trial "to destroy a man's life."
Eric Trump also questioned New York Attorney General Letitia James' credibility, noting, "I lost all faith in the New York legal system."