Photo: Alamy
President Donald Trump is the leading Republican candidate for the 2024 presidential election. He is Joe Biden's biggest opponent, yet he is now facing four indictments which total 91 charges and could hold up to 712 years in jail, according to the New York Post.
Many of the charges against him are not only questionable but include acts that have been publicly committed by other politicians without concern, according to RSBN.
From the handling of personal matters and the classified documents case to decrying election results and urging people to take action against questionable certifications, President Trump is being charged for alleged "crimes" that have not been successfully tried and punished. 
This unprecedented situation has led various leaders and voters to raise concerns about the political weaponization of the justice system, especially being that the prosecutors in these cases are pressing to strategically place court dates near important election events, like the Iowa Caucus, per RSBN.
While most presidential candidates are free to campaign as they choose, President Trump is now faced with legal battles which hinder his ability to fully focus on election season. He has already stated that this is draining resources.
RSBN reported that he noted the time and money spent fighting these charges are, "Resources that would have gone into Ads and Rallies, will now have to be spent fighting these Radical Left Thugs in numerous courts throughout the Country."
Now, he is calling out the 'bogus trials and cases." On Tuesday, he posted to Truth Social that the cases "should be brought after the 2024 Presidential Election."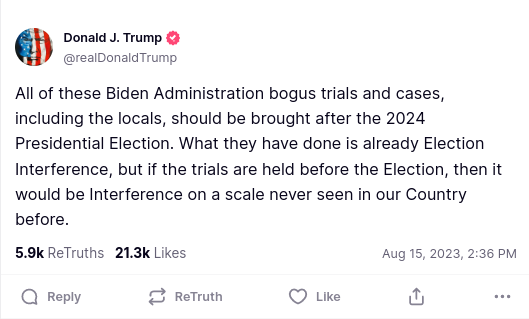 "What they have done is already Election Interference, but if the trials are held before the Election, then it would be Interference on a scale never seen in our Country before," he concluded.