Photo: Alamy
President Trump's popularity remains eminent. As he continues to campaign for reelection in 2024, he has pulled so far ahead in the GOP primary polls that he has earned a 45-point lead, according to the latest Rasmussen reports.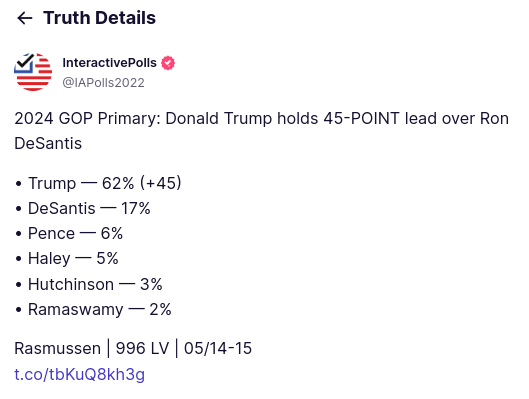 Interactive Polls posted this information on Truth Social with a photo of President Trump displayed beneath the results.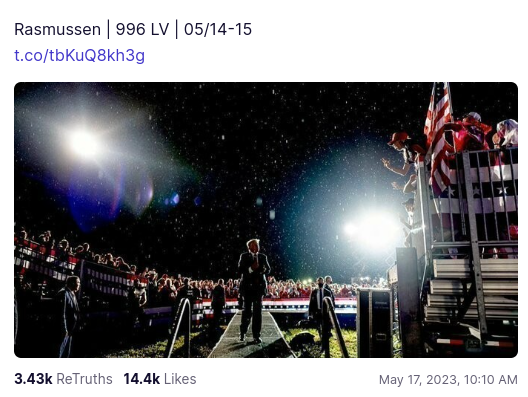 This comes just after President Trump won yet another victory. He endorsed Kentucky Attorney General Daniel Cameron for the Republican gubernatorial candidate and Cameron won Tuesday, per RSBN. President Trump congratulated him and called the nominee a "star" on Truth Social.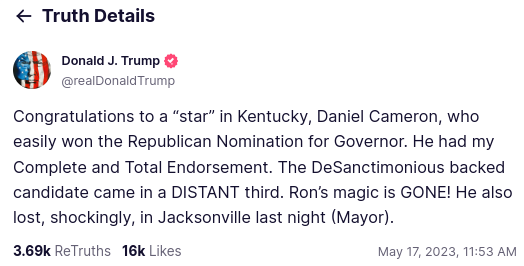 President Trump's lead is growing in the wake of his recent CNN town hall, where the moderator opposed him on various subjects, per RSBN. He has maintained his stances on America First issues like the border crisis, abortion, inflation, energy independence, and limiting federal government overreach.
In addition, RSBN reported that although President Trump's Iowa rally was postponed, he surprised two MAGA supporters to display his gratitude.
This has become one of President Trump's signature moves. He is known for surprising supporters with random acts of gratitude. In April, he bought pizza for the Fort Myers Police Department, per RSBN.
When the East Palestine train derailment created a major environmental disaster in Ohio, President Trump not only delivered aid in the form of bottled water and cleaning supplies when Biden refused, but he also bought lunch for the first responders serving the area, according to RSBN.
President Trump's ability to personally reach out to individuals has been criticized in the past. NPR scrutinized his decision to host Chinese President Xi Jinping at Mar-a-Lago when serving his first term.
Despite this, Americans have responded well to being seen and heard by the 45th president. President Trump's 45-point lead displays this as he continues to seek out his second term in office.